Ingrid Michaelson's Elliot Jacobson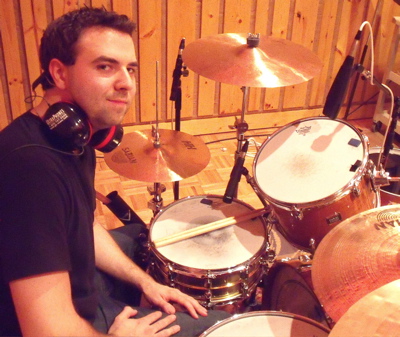 Hey, MD readers! I recently finished a two-month tour with Jenny Owen Youngs. I'm lucky that the Jenny band is made up of close friends. Touring can be pretty grueling. But if there's anyone I want to eat, sleep, breathe, shower, and play with, it's them.
Jenny's music is rewarding to play, and it keeps my chops in shape. Not to mention, she's one of the hardest-working, funniest people I know. Her new album, Transmitter Failure, has challenging and physically demanding drum parts. "Led To The Sea," "Secrets," and the title track are my favorite songs to perform.
Our typical day was about eighteen hours long, but so worth it. We got up early in a strange city, showered, packed up the van (named "Van Halen") with gear/suitcases, found a breakfast/brunch joint (usually one that serves breakfast burritos), drank some strong coffee, and hit the road. We would listen to lots of different things on the road, including new music by Noah & the Whale, St. Vincent, Shooby Taylor (please Google this name immediately), old music by our favorite '90s rock bands, and comedy by Michael Showalter, David Cross, and Patton Oswalt. We would then arrive at the venue, load in, soundcheck, and try to find some solid local food. My favorite meal of this tour was at Demos' in Nashville– seriously good steak and pasta! Advertisement
Also in the van sharing driving duties and playing face-melting music were Bess Rogers on rhythm guitar (another awesome singer-songwriter/songrocker I play with, whose EP Travelback just came out), Chris Kuffner on bass (a gentleman and a scholar as well as a true virtuoso that I play in several other bands with), and Mr. Dan Romer on keys. (Also, he's produced both of Jenny's albums, Bess's albums, and Ingrid Michaelson's upcoming album, and he's the VIP at our Brooklyn BBQs with his standup beer chicken).
The boys in Jukebox The Ghost, a really great band, joined our merry troupe of music makers with the skinniest members alive. We worked out a few fun onstage collaborations. My favorite was the set closer, Jenny's "Last Person." Jukebox were wonderful to tour with because Ben does a great old-man British accent, Jesse throws tambourines higher than the eye can see, and Tommy has the power to keep a straight face under any and all circumstances.
In the fall, I will again tour with longtime friend/bandmate Ingrid Michaelson in support of her forthcoming album, Everybody. I tracked the drum parts for the album this past winter at Sear Sound in Manhattan. Two of the songs we recorded, "Turn To Stone" and "All Love," were featured on recent episodes of ABC TV's Grey's Anatomy and are available now on iTunes. Advertisement
Tour dates will be announced in July, so stay tuned via www.myspace.com/elliotjacobsondrummer or www.twitter.com/elliotjacobson.
For more on the bands and musicians listed in this blog, check out
www.bessrogers.com, www.ingridmichaelson.com, www.jukeboxtheghost.com, www.myspace.com/drawingnumberone, and www.myspace.com/chriskuffner.
Special thanks to Yamaha drums, Sabian cymbals, and Vater drumsticks for continued support!