Aiden's Jake Davison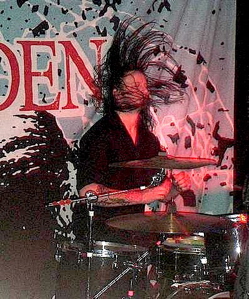 My name is Jake Davison, I play drums in a band called Aiden. I'm in Salt Lake City, sitting in a hotel writing this blog for Modern Drummer.
I started playing drums when I was super young. My dad always had a kit set up in the basement of my families house, he really got me started playing. He would teach me basic beats and just let me bang around on his drums. As I got older I continued to play, I took lessons and played a lot of jazz and latin music. From that, especially jazz, I learned about creating a pocket, and the importance of creating a certain feel for different types of songs. Lessons also taught me, what I think is so important, is proper technique. I only learned this after developing carpal tunnel. I had to start over from scratch, I had to forget everything I knew, and re-learn how to play, properly. Carpal tunnel is something that still gives me problems even though I corrected my technique so long ago.
I started Aiden when I was 17 years old, with Angel Ibarra (guitar Aiden) when we were in high school. We started the band just to have fun and jam. I've been very lucky that it has turned into something that allows me to do something I love, play the drums every night, all over the world.