The Clarks' Dave Minarik
MD readers. My name is Dave Minarik, and I play drums for a Pittsburgh-based band called the Clarks. We're excited to release our latest CD, Restless Days. I thought I would share a bit of information about the recording process, rehearsals, and gear I used during this project.
The band started rehearsing for this project in the winter of 2008. In the past we've rented spaces in Nashville or used our own rehearsal space. Since we were going to record in Pittsburgh for the first time in many years, and since none of the bandmembers lives in close proximity anymore, we were fortunate to find a space made available by the company that prints our T-shirts. We hashed out material for a few months until we thought we had a strong song base to work from. At this point we brought Sean McDonald onboard as the engineer and producer for this project. After a few more months of fine-tuning each song, we felt that we were ready for the studio.
Days before we were scheduled for recording, we got a call from the Pittsburgh Penguins asking us to do a version of Louis Armstrong's "What A Wonderful World." Not a band to pass up an opportunity like that, we decided to fit the song into our schedule. Within three days it was arranged and recorded. You might think that three days is a bit long, but consider the fact that no bandmembers were in the studio at the same time, and that we were playing shows at the same time. The song turned out great, and the Penguins and our fans loved our version of this timeless classic. Recording in this fashion set the tone for the new project. Advertisement
With all of the live shows out of the way, it was time to lay down some drum tracks. I had the entire band come into the studio for one evening to lay down template tracks for all of the songs. These songs weren't complete–the vocals weren't all there, and the guitar parts weren't done–but the basic structure and tempo of the songs were. I spent the next week laying down some solid drum tracks. This was a great way to record. I could spend as much time as I needed to get things right or maybe work out some fills.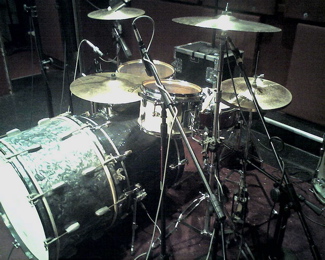 Sean McDonald happens to be a great drummer and was wonderful to work with. We got to take the time we needed without having other bandmembers bored out of their minds, sitting around and waiting for me to finish. I think in the end it was all worth it. Most of the songs are a single drum track with the same basic kit. However, the seventh track, "Come Round Here," is three separate loops.
The kit Sean and I assembled was a mismatch of drums. Sean is really a mastermind when it comes to getting great tones. I have a few very nice kits; one of my favorites is a late-'40s, early-'50s Slingerland. This was one of those $500 finds that you read about in magazines, similar to finding a cherry 1948 pan head that's been sitting untouched in a barn since the original owner parked it there in 1949. This kit has a great sound, and I've used it exclusively on the last three projects. Sean decided to try some different kick drum options and settled on a 24″ Yamaha kick with a 26″ Radio King kick in front of that. The results are unbelievable. Sean and I combined our snare drum collections, so we had all of the bases covered. Advertisement
As a listener, I really like this record. I hope that most of you will agree. If you have the chance, please give it a listen.
Happy drumming!
Dave
For more on Dave Minarik and the Clarks, visit www.myspace.com/theclarks.