T.S.O.L.'s Anthony "Tiny" Biuso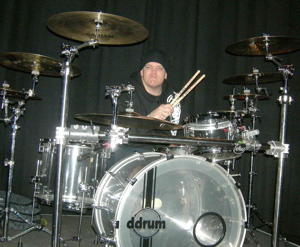 Hey, Modern Drummer readers! It's Anthony Biuso here, checking in with a blog to let you know what's been going on in my world. I left (hed) p.e. in August of 2008 to devote more time to my previous band, T.S.O.L. I had a great time touring and playing with (hed) p.e., and it was a hard decision but one I had to make. I had just recorded the NWO record with (hed) p.e., which got to #73 on the Billboard charts. The record is getting plenty of airplay, and I'm really happy that my bombastic, funky punk drumming is being heard by a lot of you. I will always remember the fun times I had with those guys and wish them the best.
Being home afforded me the option of picking and choosing a bunch of cool session work, though. One such session was for Dizzy Reed, current and original member of Guns N' Roses. The record is being produced by Del James and Dizzy, and I'm on two tracks. Frankie Banali is on a few as well! I was at the Vintage Drum Show here in L.A. and ran into Frankie and he told me, "Oh man, great work on the record, really liked your ride work." Then he went on to tell me he checked me out on line. NICE! I remember seeing him with Wasp at nineteen when my band opened for them–it's very cool to be on an album with him. The record is tentatively titled Rock 'N' Roll Ain't Easy. Look for it in record stores soon. It's just a great record of kick-ass, high-octane old-school rock songs, with all kinds of killer players. Mike Duda (Wasp) and Richard Fortus (G N' R, Rihanna, Psychedelic Furs) play on the tracks with me as well.
I've also been jumping up and jamming at The Joint and The Cat Club (Hey Slim!) here in L.A. from time to time with my good buddy Happenin' Harry. He hosts an all-star jam and I get to play with ridiculous talents like Billy Sheehan, Mayuko and Tsuzumi Okai, and Dizzy Reed. Billy is an amazing bass player and a tremendous human being. We play songs by bands like UFO, ZZ Top, Black Sabbath, Deep Purple, and Van Halen. Advertisement
Getting back to my T.S.O.L. gig–we recorded an album for iconic skate and surf company Hurley in mid-December. It's available for free at www.hurley.com/tsol as part of their promotion of new products and videos. It was a very easy process that only took about two weeks, and the whole thing was streamed live online–pretty funny to have a producer telling you to "real it in" while thousands of fans watch you sweat. Speaking of producers, we had an amazing one, David Bianco, working with us on this record, which is titled Life, Liberty, And The Pursuit Of Free Downloads. We are very proud of the record, and it was truly a collaborative effort. We did a little tour in support of it in January with Black President (a fantastic band!), and we have a couple weeks on the 2009 Warped Tour coming up in June and August, so that should be fun. We also have a song in the movie Crank 2, and the O.C. Music Awards named us "Best Punk Band."
I've also been playing with Rhino Bucket again, subbing for Simon Wright (AC/DC and Dio). We will be doing some festivals and one-offs all summer in between my gigs with T.S.O.L. They've also asked me to record their next record and tour Europe (Finland, Spain, Norway, Germany, Holland, and more) with them in 2010.
So all in all I've been keeping myself very busy playing drums and catching the next gig as it falls into my lap. I must thank Terry and Rick at ddrum for my amazing acrylic seamless kit, and Christian and Bobby at Sabian and Marco and Ben at Vic Firth for their amazing support in all my endeavors. I have been truly blessed with the family of friends I have at these companies. I must also thank Billy Amendola and Modern Drummer for inviting me to the Rock & Roll Fantasy Camp this past April in Los Angeles. I got to hang with some of my favorite drummers and friends. Thanks to everyone out there who reads this! You can see some live performances on my You Tube channel at www.youtube.com/biusomatic. Advertisement
Best of luck, and keep drumming–it keeps us in shape and young! Bye for now.
Anthony "Tiny" Biuso