Jeremy Enigk's Victor Garcia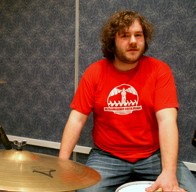 Greetings! The first time I sat in front of drums was the day of my thirteenth birthday, when my brother came home at night and surprised me with a fourth-hand drumkit. It was an old black Pearl Forum Series. On this I learned to play, and every day I spent hours playing. Later on, I was able to buy my first "good" snare; it was a 14″ Remo piccolo.
When I was sixteen, I spent the summer working at my parents' restaurant, and I fell in love with a Tama Starclassic kit and bought it. Then, the "emo" scene was at an all-time high, with bands like Texas Is The Reason, Samiam…and Sunny Day Real Estate! I discovered them through their last album, The Rising Tide. The first few times I listened to it I actually didn't like it, but later on I became fascinated by it. I simply loved it, but above all I loved the sound of William Goldsmith's drumming. He was powerful, and I loved how he beat the snare. (Every snare beat was accompanied by the hi-hat opening.) I was also surprised by Jeremy Enigk's voice. I couldn't believe that it was a boy and not a girl singing; it had an angelic feel about it…it gave me goose bumps. In fact, I had never thought that I would have the chance to meet him, and even less to record an album with him and be his drummer!
It all started when a friend (Ramon Rodriguez, the owner of the Cydonia label) suggested that Jeremy come here to Sant Feliu de Guixols to record the album at Ultramarinos Costa Brava Studios. The studio is owned by Santi Garcia, a great and well-known Spanish producer who is also my brother. Jeremy was here for a month and a half. Advertisement
The recording was very calm. We put mics on the drums and set them up for the vocals and piano. Jeremy recorded the demos on the piano, then added a reference voice; later we built the song. We nearly always left the drums once the demo was done. I used a blue sparkle Ludwig Hollywood kit from the '60s: 14×22 kick drum, 8×12 tom, 16×16 floor tom, and a 5×14 Supraphonic snare drum. The cymbals I used were some custom 14″ Zildjian hi-hats, a 20″ Zildjian A Custom ride (as a crash), and a 22″ A Custom ride.
The first song I recorded was "In A Look." It was a really gentle song, but Santi and Ricky, the producers, had the idea to turn it around and make the end tremendous. So even though we recorded it in one main take, we did three more takes so that you could hear four drums at once, which was really cool. Though I'm a rock drummer influenced by John Bonham, Keith Moon, and Dave Grohl, the thing I liked the most was having the opportunity to play slow songs with brushes, like in the case of "Make Believe," which is one of my favorite songs.
Summing up, it has been a great pleasure recording and playing with Jeremy. Let's see if it helps me to get a good sponsor, ha ha ha!