The Ryanist of Antennas Up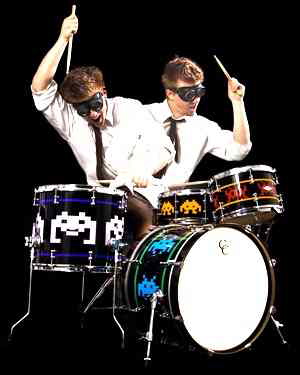 At a show in Lawrence, Kansas, Jordan, then drummer of Oliver Future, now drummer of the Relentless 7, gets to telling me about C&C drums. He says that they have finished drumkits for Ringo Starr, and that they're just generally awesome folks to work with.
Ben, drummer of Denver band Meese (watch for them), gets crackin' on a kit from C&C. He was telling me that they built him a blue sparkle kit in the same vein as an old Ludwig he had. New drums with a vintage vibe.
This was a relief to hear. I had been looking for an old Rogers or Ludwig for some time but was getting tired of dealing with all the hassle that comes with vintage drums. To say the least, most fifty-year-old drums are not in top shape. I was seconds away from pulling the trigger on a vintage Slingerland kit on eBay until I found out from the seller that the floor tom hardware was rusty because it had been pissed on. Like, with urine. Pee from a bladder. No thank you. Advertisement
To be fair, there are some great, piss-free, vintage drums for sale out there, but to me, the market was a minefield. Even if I did find a great vintage kit, would I really want to take it on the road, or would I just want to admire it as it sits in a climate-controlled glass case?
Turns out C&C builds their drums just barely north of Kansas City. That's my hood. So why the hell didn't I have a C&C kit yet?
Ready to get started on a kit, I contacted C&C, and told them about Antennas Up. They told me about their endorsement program. Score.
For the build, I had in mind a vintage-style wrap, vintage mahogany shells, vintage everything. Like opening a time capsule on a new (old) kit.
But that seemed too normal and easy. Kyle, our singer, and I got to thinking, "C&C can build whatever kit we can dream up, maybe we should do a kit that matches our album cover." That sounded like a good idea at the time, but when we release another album do we build another kit? This idea was starting to get wasteful.
After some brain stew, we realized this was an opportunity to build a classic kit on multiple fronts, and to celebrate high geekdom. We had in mind a kit with vintage drum shells and vintage sound at heart, combined with a classic video-game exterior. Evil 8-bit alien crustaceans marching in attack formation–Space Invaders. Why hadn't this been done before? Turns out it had…kind of. Once the kit build was underway, a friend sent me a link to this toy drumset with invader-like characters on it. A toy! Bah! The invaders light up, and six-year-olds scream with joy as they perform perfectly placed paradiddle polyrhythms. Advertisement
Ok, so someone else thought it was cool to put invaders on little kid toy drums. I can hardly blame them, it's an amazing idea. We thought, "Eff it, we're building the bad-ass, big kid version." Roll with me on this. Like a red sports car versus a red toy wagon.
Jake and Bill from C&C got to talking with me about the design, and after many iterations, we finally came to this multi-colored invaders with slick racing stripes on piano black. It's kind of a combo of the album cover and Invaders. This design process was the longest part about building the kit, mostly due to my mind changing so many times. Hey, when the possibilities are infinite, it takes a while to narrow things down! Both Jake and Bill of C&C were ultra-helpful in refining the design. Lots of ideas that worked in my head needed adjustment to really come together on the drums. With all their experience, these guys know what works.
We had die-cut vinyl decals made to specific sizes, Bill measured, measured, measured again, and placed each individual sticker on the painted shells, and buried those suckers in a bunch of clear coats. The actual process is much more involved than that, but in the end, the finish is more impressive than a wrap with graphics, and way more awesome than that toy drumset. Advertisement
Oh…and the sound? It's sweet. The snare drum is unreal. Sensitive, yet focused and fat. Gotta hear it to believe it.
C&C Invader Kit specs
• Sounded bearing edges on all drums
• Steam-bent single-ply mahogany shell with maple reinforcement rings
• 6×14 snare (eight-lug) Trick throwoff, Puresound snares
• Keller Vintage mahogany-poplar shells with maple reinforcement rings
• 8×12 rack tom
• 14×16 floor tom
• 14×20 kick