Martin Chambers: New Challenges, New Energy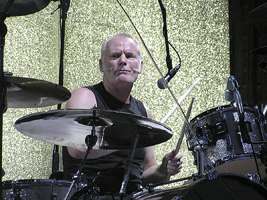 When the Pretenders' raw and rootsy album Break Up The Concrete appeared last fall, fans were disappointed to find that Martin Chambers–the man Chrissie Hynde introduces in concert as "one of the all-time great rock drummers"–was not behind the kit.
Granted, the guy manning the drums on Concrete, Jim Keltner, is no slouch. And Keltner's familiar kitchen-sink approach suited the album's ramshackle sound. Still, the faithful weren't quite sure what to make of a new Pretenders album without Chambers, the only remaining original member of the band besides Hynde.
When the Pretenders hit the road to support the album, however, Chambers was there, feeling energized by new band members James Walbourne (lead guitar) and Eric Heywood (lap steel), and by playing Concrete songs each night in styles that were admittedly not his forte. Advertisement
"It's nice to be forced, if you like, into doing something that's not particularly your bag," Chambers says of learning Keltner's parts. "It pushes you to do things you wouldn't do, and that's definitely the way forward. Playing with a maraca on 'Rosalee,' or 'The Nothing Maker,' where I had a cabasa going in my right hand–it's not something I'd have done, but I enjoyed it." With a laugh, he adds, "Thank you, Jim."
Patrick Berkery