Ira Elliot: Nada Surf's Vinyl Obsessive Gets Personal With MD
My own little record store, containing only albums I still like after twenty-five years–that's suddenly what all my records look like splayed out across my room. I've moved a couple of times over the past two decades, and though my records always came with me, it's only in the past year or so that I finally made shelf space in my apartment for them and set up a decent stereo system. Now I need to find some records for this piece [see Ira's Ask A Pro in the July issue of Modern Drummer], and first I need to put them all back into alphabetical order.
I had just gotten all my albums out of storage around the time that Matthew, my good friend and bandmate, decided to display his records by arranging the spines in color order from dark to light–black spines on the left, then brown, purple, blue, green, red, orange, yellow, and all the whites on the right. This kind of bizarre segregation leaves you with a totally random album order that, if you're like Matthew, may make a lot of sense. But that's him–searching, seeking, finding, maybe not finding, finding something oddball that's more interesting than the thing he started out trying to find. For me, on the other hand, having an arrangement like this is more a quiet, haunting, low-grade-fever nightmare. "What color spine does Imperial Bedroom have? Aaagh!"
Over the years I've gotten rid of certain records that for some reason or another made me cringe a little. I've ditched Kiss records (which I kinda regret) and a Donnie Osmond album (which I really regret). This time around the losers were a John Waite record (keep it just for "Change"? Forget it, man; that's why God made Limewire) and Van Hagar's 5150, both of which I'm highly unlikely to regret years from now. "Ah, if only I could hear 'Why Can't This Be Love' on warm crackly vinyl." Mmm…nope, can't see it. This would never happen with my crappy old copy of the first Band album. Advertisement
The inventory is heavily weighted toward power pop of various stripes–early Cheap Trick, the first and third Raspberries albums (thanks to my older sister, Tina), some Flamin' Groovies…. For someone like me who grew up squarely in the age of vinyl, going through your collection is like coldly assessing your true nature. Sure, I've got Stooges vinyl, some Replacements, Buzzcocks. But I also have to admit I have the soundtrack to the movie Hair. Well hey, that's just who I am, dammit.
So this effort to write about some of my favorite records turned into not only a major stroll down memory lane but also a great excuse to alphabetize, which makes me feel…complete somehow. Thank you, Modern Drummer.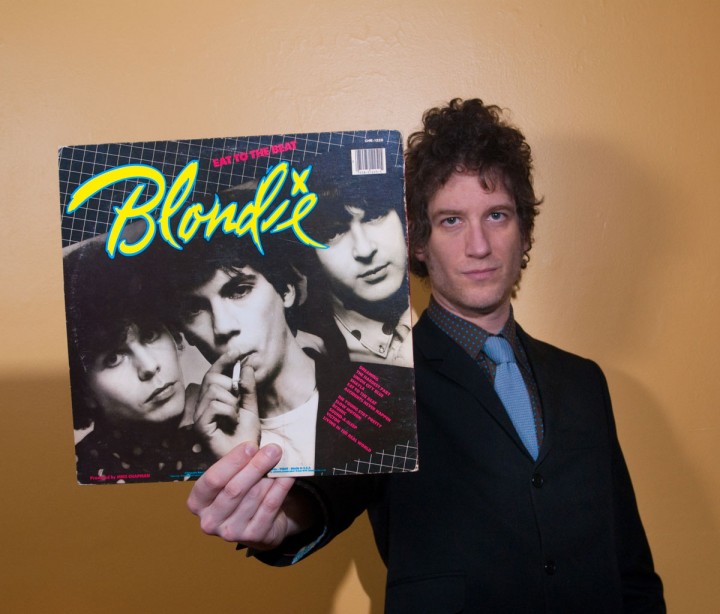 BLONDIE EAT TO THE BEAT (1979)
As close as I'm likely to get to being in Blondie.
It only takes about three seconds to establish who's in charge here. Clem Burke kicks "Dreaming" into high gear with the first of many, many machine-gun snare rolls. The rest of the band just barely holds on for the ride. The transcendent "Union City Blue," the punishing title track that makes "Dreaming" sound kinda laid-back in retrospect… Clem is on fire, which means playing along with this record is like a cardio workout. The fastest, cleanest 16th notes this side of Dave Grohl. Advertisement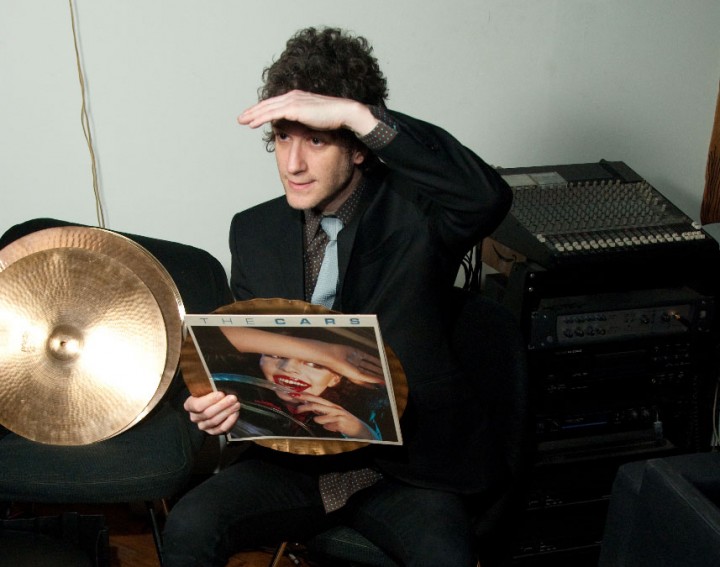 THE CARS THE CARS (1978)
Get it? Cars? I'm driving…with the foot pedals and the glare in my eyes and…oh, forget it.
Before joining the Cars, David Robinson had been the drummer in the (incredibly awesome) Modern Lovers. Moving from one band to the other, Robinson took his stripped-down rock style with him. The Cars notched up the production values considerably, giving David's tom fills lots of new-wave thwack. This was an interesting period for drummers, as drum machines were becoming commonplace on pop and rock recordings and more and more drummers were compelled to play with, and sometimes like, machines. For guys like David Robinson and Devo's Alan Myers, this didn't seem to be an issue. Carl Palmer, however…
RAMONES RAMONES (1976)
Forest Hills in the house.
If you're from Liverpool, the Beatles might fill you with hometown pride. If you're from Forest Hills, Queens, like me, it's the Ramones (all apologies to Art Garfunkel and Leslie West). This first Ramones album, one of the most important rock albums ever made, features Tommy Ramone on drums–my favorite Ramones drummer. Tommy set the tone perfectly: no flashy fills, just straight hi-hat and floor tom beats with perfectly placed crashes. If you want to know how to play drums in a rock 'n' roll band, here's your first lesson.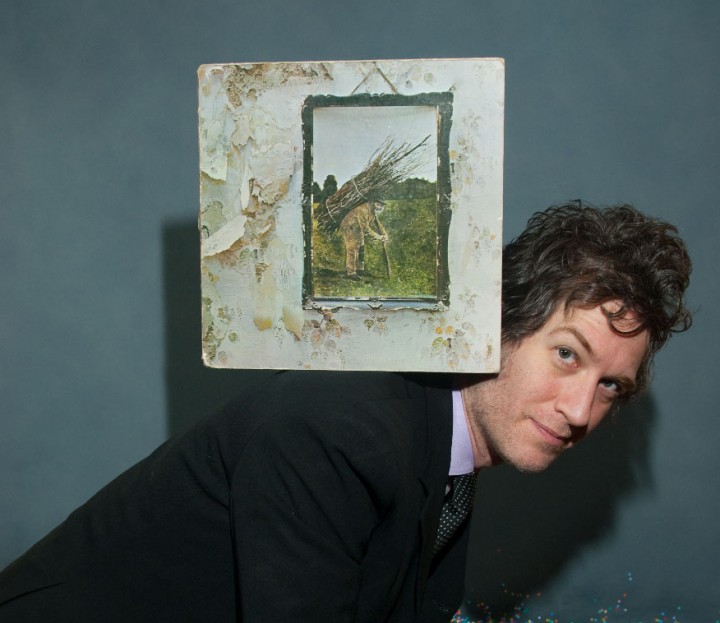 LED ZEPPELIN Led Zeppelin IV (1971)
Like the storied drumstick wraiths of yore.
Well, really, what can I say about this record that hasn't been said by a thousand drummers? When I auditioned for my first band, the singer and guitarist looked on as I pounded out a furious "Rock And Roll" while wearing huge headphones attached by a curly cable to a white plastic turntable. Like a Matthew Sweet album cover. By the time I punched that last crash at the end of what is without any question the most kick-ass seven-second drum solo of all time, they were already writing their band name on my bass drum head. Which was "Quest"–thanks for asking. Advertisement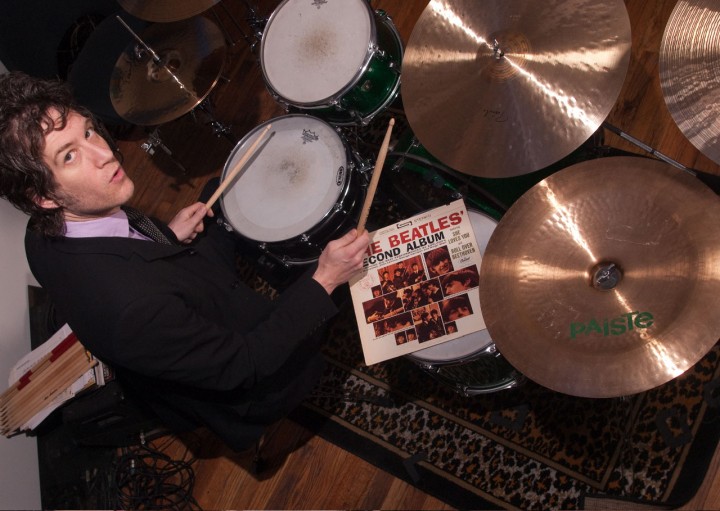 THE BEATLES THE BEATLES' SECOND ALBUM (1964)
Ringo often used his own records for floor tom muffling. True story.
Capitol song order and reverb issues aside, this album could also be called How To Rock It Ringo Style, Hamburg Edition. It's textbook early Ringo–lots of shussing hi-hats and cracking snare drum. He kicks the beans out of "Devil In Her Heart," breaks out the triplet swing and the big cowbell ("I Call Your Name"), gets primitive ("Money"), goes completely mad ("Long Tall Sally"), and simply nails it down ("Roll Over Beethoven"). Ringo is the f**king best. And btw, all the drum tracks here were recorded using only two microphones–overhead and kick.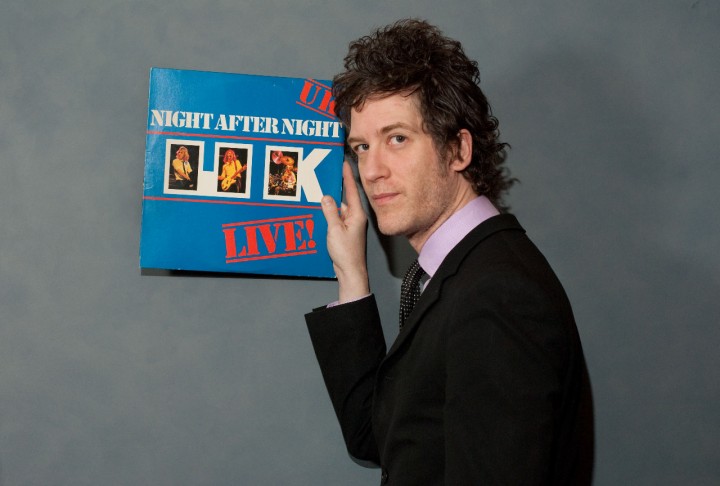 U.K. NIGHT AFTER NIGHT LIVE! (1979)
You might be better off simply holding the album to your head like this than actually listening to it.
Please don't get the urge to play along with this record, because I'm telling you right now–you just don't have enough Rototoms. And if you do, then I'll bet that your wife/girlfriend/mom wants 'em the hell out of the basement already. I loved U.K.'s dark, creepy first record, with Bill Bruford on drums, but listening to Terry Bozzio, John Wetton, and Eddie Jobson blaze through these twisted prog-rock epics really rattled my cage. "Presto Vivace" has been shown to induce epilepsy in hamsters. Dexterous and explosive performances, plus an arena full of crazed Japanese progsters, makes for a heady combo. Your wife/girlfriend/mom will hate it.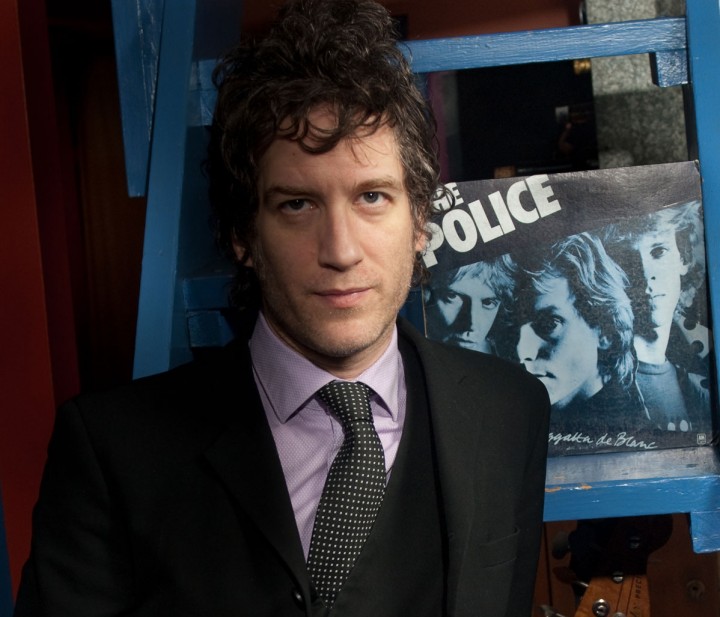 THE POLICE REGGATTA DE BLANC (1979)
As always, in the shadow of the Police.
It would be difficult for me to overstate my obsession with the Police, and with Stewart Copeland in particular. I was sixteen when this album came out, and by the time I was seventeen I had quite the arsenal of cymbal hits on the 2, chattery hi-hat flourishes, hiccup-y reggae cross-stickings, and cranked-up tom fills. If you're into Copeland you might wanna seek out his rare 1980 solo album (10″ green vinyl!) under the pseudonym Klark Kent. Or buy yourself a Sting dartboard. Either way. Advertisement
Photo by Andrew Bicknell.