Pat O'Shea of Millions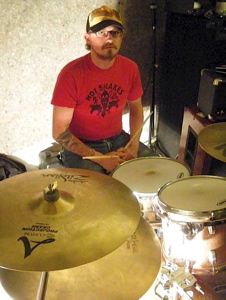 What's up, everybody! My name is Pat O'Shea, and I play drums for the Chicago-based band Millions. Our debut full-length, Gather Scatter, is out now, and we've been pretty busy heading out on the road in support of it. We've also been working on new material, which has been tons of fun.
I've been playing drums since I joined band in the fourth grade, after my older brother convinced me I didn't want to play guitar but drums. He was already a guitarist and secretly wanted to have a drummer in the house. I can't thank him enough for 'tricking' me into it. I started playing out when I was twelve in various clubs in the Dayton, Ohio area (in a band with my brother, so that worked out I guess), and I've been playing in bands on and off ever since.
Over the years I've gotten to play a lot of styles of drumming: I've played in a '90s indie band, a pop punk band, an improv post-rock band, a rock band, and now the noise-wall that is Millions. It's been a blast with all of them. But I think the most important thing I've learned is the obvious: Protect your gear on the road! Advertisement
Growing up, I had the punk rock sensibility of not using gig bags or cases—drums are supposed to get beat up! But I've now been through a vintage '60s Ludwig kit and a set of birch Sonors. The Sonors, most interestingly, were in my car when it caught on fire at a 'welcome home from jail' show for a friend! We got them out before they totally burned, but not without some soot and melted plastic getting on them. But they didn't warp and still sounded good, and I even used those shells to record the Gather Scatter album!
But I've now upgraded to a new set of Ludwig Legacy Classics (which I love), and you can be damn sure you'll never see those at a show without bags or cases. So remember: Protect your gear, or your kit might catch on fire.
Now that I've got my drums protected, for now I'm just gonna keep practicing to prepare for our European tour in the fall, work on new patterns, and do some back-to-basics rudiment work at home. Advertisement
Thanks for reading. Keep playing!
Pat O'Shea