Mallet Master Tim Collins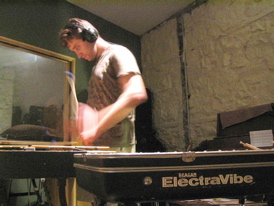 Hello, MD readers! This is Tim Collins, saying hello from NYC. I'm originally from Plattsburgh, NY, where I got my start playing drums and piano at the age of six. I first started playing mallets when I got to college, and before I knew it I was playing vibes just as often as drums. I've released two records as a leader so far. The first, Valcour (Arabesque Records 2007), features Ingrid Jensen, Aaron Parks, and drummer Simon Lott. My most recent album is called Fade, available through Ropeadope Digital. It was produced by Charlie Hunter and features his nasty bass lines. It also features a string quartet on several tracks. You can hear it at Last.Fm (www.last.fm/music/Tim+Collins/Fade).
In addition to my new record, 2008 has been productive in many other ways. January brought me to Germany, playing vibes with a good friend, jazz pianist Matthias Bublath. Matthias's music is a high-energy mix of funk, jazz, and Latin. His band always has great drummers: Obed Calvaire, Zach Danziger, Ludwig Afonso, and Christian Lettner to name a few.
In March I traveled to Austria with the group Trionada. Trionada is a fascinating group because it features such strange instrumentation: me (vibes, marimba, vocals), Elisabeth Lohninger (vocals, loops, effects), and Max Pollak (tap dance, body percussion, vocals). Max is an astounding musician who plays the drummer's role: He can make music from anything. Advertisement
I also played vibes on Sam Barsh's latest release, I Forgot What You Taught Me, for RazDaz Records. Barsh is a former member of bassist Avishai Cohen's trio. Another recent album I'm proud of is Hide And Go Seek by ElephantBear. I played drums, keys, vibes, and percussion, did backing vocals, and arranged the string parts for this rocking album. The music was composed by my longtime musical collaborator, Mike Pedersen. Also, coming out soon is a record I played vibes on by Bolivian native (and longtime New Orleans resident) drummer Martin Urbach.
It's funny, as I'm writing this, I'm realizing just how lucky I've been to play so much creative music this past year. Some other highlights of my music career include playing with Meters bassist George Porter Jr., saxophonist John Ellis, and Paul Shaffer and the CBS Orchestra.
I wish you all well, and please check out some (or all!) of the music I've mentioned at my Web site, www.timcollinsmusic.com.
Tim Collins