The Fab Faux's Rich Pagano – Talks to Modern Drummer About 10th Anniversary Show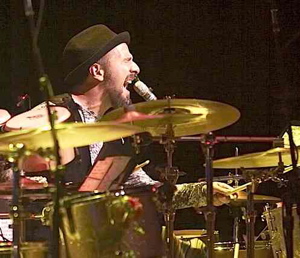 Hi, Modern Drummer readers, Rich Pagano here. I'm a drummer/studio owner/producer based out of New York City. Some of you may know me from touring with Rosanne Cash and Patti Smith, or from my ten years (and counting) singing and playing with the Beatles tribute band The Fab Faux. Some other faves that I've performed and/or recorded with are Ray Davies, Ian Hunter, Faith Hill, John Mayer, Gospel legend Marie Knight, Joan Osborne, and Levon Helm.
I've been asked to elaborate on The Fab Faux's recent sold-out tenth-anniversary show at Radio City Music Hall. Dissecting Ringo's approach has been a great education, but for this show I took it a step further. We perform songs from every period of The Beatles' career, and those who've seen our concerts have witnessed performances with replica guitars and amps, a horn and string section, three keyboard stations, and note-for-note replication of the records (without wigs and suits–no offense, we like those bands too) with a touch more live energy, as if The Beatles were touring today and we were the backup band.
The big difference on my end for this show was that I used two kits on stage. One was tuned for the '64-'68 period (classic black oyster pearl sound) and the other was tuned like Ringo's "blond" kit for the '69-'70 period. The early kit (a GMS set) is tuned higher and more resonant, with lots of tone and decay. The later kit (an SJC set) was tuned down a bit and the snare drum and floor tom are muffled slightly. Those in the know are aware that Ringo 'tea toweled' these two drums, giving it the Abbey Road/Let It Be sound. I don't go as far as baffling the whole snare drum, because in the end I want a bit more of a live nature to this kit. I'm told that it's translating out front too–helped by our front of house engineer, Joe Chinnici, and the fact that he favors the overhead mics a bit more for the early-sounding kit and the close mics for the later-period kit. We also pack the kick more with fabric for the '69-'70 kit.
Out in the legendary Radio City art deco lobby, I set up a station to give away free copies of my three-song EP, which is a pre-release to my upcoming solo effort, Rich Pagano & The SugarCane Cups (unofficial release date: 3/09). In the end, 1,500 copies were taken, and the positive reviews are flying in, comparing its influences to solo John Lennon and solo Pete Townshend. I'll take that! The full version will have eleven original songs, and special guests include The Fab Faux, Ian Hunter, Trey Anastasio (Phish), David Johansen, and GE Smith. To receive your own copy, please go to my Web site. You can also hear excerpted samples. With a simple email request, we will send you the full songs–free. Thanks to MD for being a voice for those of us that live for rhythm and melody!
For more on Rich Pagano, go to www.thefabfaux.com or www.richpagano.com. And check out Glide magazine's interview with Rich at www.glidemagazine.com/hiddentrack/interview-rich-pagano-sideman-to-solo/#respond.
Please look for more on a day in the life of Rich Pagano in an upcoming Modern Drummer issue.