Kevin Johnson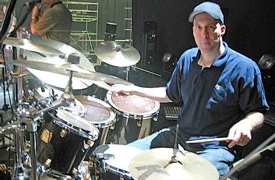 Hello, MD readers. This is a very important time in history. The first African-American president took office recently, and he spoke of standing on the shoulders of those who came before him. As this idea pertains to music, and to playing drums in particular, I'm thinking about all the shoulders I'm standing on.
I've had the privilege of playing with artists who have rich histories, two of which are the Average White Band and Ashford & Simpson. I feel blessed to have sat on the same thrones as Steve Ferrone and the late Yogi Horton. To appreciate what an honor that is, you have to understand the influence that both Steve and Yogi have had on my playing. But I also view it as a huge challenge–a challenge to capture their spirit, while maintaining my own.
When I first got these gigs, I listened to all the live and recorded versions of their songs that I could get my hands on. I didn't approach it like, "I'm going to put my stamp on this gig!" I really feel there can be a disconnect with the drummers who have come before us. So, to all the drummers out there who are fortunate enough to play for an artist who has a long history: Before you think about what you can do, remember those who sat on that throne before you. Advertisement
In keeping with this theme, I can be heard on Back To Now, the latest release from the reunited Labelle. The track is "Dear Rosa," a tribute to Rosa Parks. And I'd also like to take this opportunity to wish a happy 80th birthday to the legendary Jimmy Cobb.
Thanks,
Kevin "K-Dog" Johnson
For more on Kevin, visit www.kevinjohnsonmusic.com or www.myspace.com/kevinajohnson.