Earl Palmer Remembered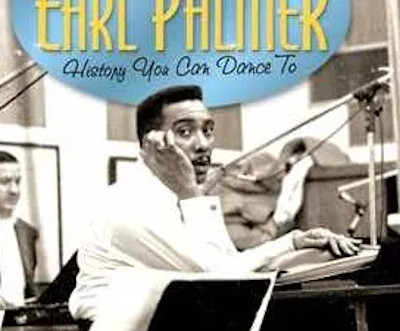 by Mark Griffith
In drumming, the terms legendary and innovator are thrown around far too often. Yet Earl Palmer deserves both of these titles. Drumming legends have grooves that are instantly associated with them. True innovators come up with (or popularize) an ingredient that's used by future generations to create an approach or sound that outlives them and their musical disciples. Earl Palmer did all this and more.
Palmer's drumming pulse was the backbeat that he created in New Orleans, but his heartbeat came from the musicality and the swing of jazz. After moving to Los Angeles, he made hit records, worked with musical legends, and dominated the session scene through his tireless work with contractors, producers, and the musicians union. His pocket playing always found the perfect position between a swung and a straight 8th note, which will forever define the elusive concept of groove.
In our coverage of Earl's career (March issue), we included a number of quotes from his peers. Here are some more thoughts and memories from musicians who loved Earl–as so many did.
Steve Smith (ex-Journey, Vital Information)
Earl Palmer was a true musical pioneer. He was one of the prime rhythmic innovators responsible for the creation of the groove of rock music. To hear one of the very first fully developed straight-8th rock beats with a snare drum backbeat played throughout the tune, listen to Little Richard's 1956 recording "Lucille." This is Earl on the cutting edge during this most exciting time in the development of a new musical genre. I had the great pleasure of being a friend of Earl's. He was a beautiful man, a gentleman with a sharp wit and a big heart. Advertisement
One particular night I hung with Earl, Zigaboo Modeliste, and Paul Siegel and Rob Wallis from Hudson Music. The banter between Earl and Zigaboo was so funny that we nearly asphyxiated ourselves from laughing so hard!
To get a sense of Earl's personality and playing style, check out the Alfred Music DVD New Orleans Drumming. For me, this is one of the most informative drum videos ever made, and Earl's contribution is priceless. I miss Earl Palmer.
Mike Clark (Herbie Hancock, ex-Headhunters)
Like most young drummers growing up in the '60s, I heard Earl Palmer on a daily basis. But I never heard of Earl Palmer until the mid-'70s, when I began to research who was playing on these songs I loved so very much. It turns out about twenty of my favorite drummers were all Earl Palmer. His taste, musicality, feel, and ability to put just one note in a space that could accommodate many more, but put it in the perfect place, were an inspiration beyond measure. Thank you, Earl. Advertisement
Clayton Cameron (brush master, ex–Tony Bennett)
There aren't enough superlatives to capture the essence of Earl Palmer. He embodied what a great human being should be: a family man, a great leader, a statesman, an innovator, a musician, and a great friend. He was an integral part of American culture, first with his early recordings of the new music called rock 'n' roll, and then in our living rooms via favorite television shows like Mission: Impossible and The Beverly Hillbillies.
Earl Palmer was my hero! One time when I was starting out, I asked Earl who his heroes were. Without hesitation he said Max Roach. "We all wanted to be Max," he would say to me. "We wanted to dress like him. Eat like him. Play all his licks. Max was the man." As Earl was saying all this, I couldn't agree more, but I was also thinking that I would like to be like Earl Palmer. He was the man, a Renaissance man. Farewell, Earl.
Tony Braunagel (Bonnie Raitt, Taj Mahal)
Earl taught all of us how to play rock 'n' roll. He played on so many great records, all those grooves and signature fills. He created that style, and we all copied him. To this day, I play the grooves and fills that I learned from listening to the records he played on. Advertisement
I was, and still am, a big fan of all music from New Orleans and the many great musicians who came from that birthplace of jazz, blues–and, to Earl's credit, rock 'n' roll. I didn't know it was Earl playing drums on those great tracks when I was growing up and listening to that music. But later in life, I got to meet the man, and I immediately felt he was a friend. That never changed over the years I knew him. Earl made me feel like I was being let in on the secret of that type of drumming and that music, like I was part of the club. But it wasn't just me–he made everyone feel that way. I could call him on the phone and ask him a question about music, and he always had the time.
He left us with a great treasure in his style, his warm personality, and a legendary body of work to enjoy forever.
Ian Falgout (Windsor, sessions)
Of course people in the industry know of Earl. What most people don't realize is that with all the TV theme-show sessions and hits he recorded, he's heard almost every day by everyone–The Flintstones, I Dream Of Jeannie, The Brady Bunch, Green Acres, The Mod Squad, The Partridge Family, Batman… He's the pulse of TV Land! Movies from Gremlins to Top Gun, and of course all the Ritchie Valens songs, some Monkees, Beach Boys, and on and on. He transcended music and became a part of pop culture.
That being said, I met Earl as my career progressed, and he became my friend and mentor. I learned so much from Earl, and he never showed me a lick of music or anything on drums. At his house or hanging at shows and backstage, he taught me attitude. He was a kind man, but he never minced words and always spoke his mind. He would respect anyone's opinion as well. But he was actually feared on sessions, especially when he was the musical director. Earl let me know that it's okay to be proud, even a little cocky, but it's never okay to settle. Advertisement
Thanks, Earl, you will be missed.
Max Weinberg (Bruce Springsteen, Conan O'Brien)
Apart from all of Earl's immense musical skills, he was one of the true gentlemen. And I think he would be universally appreciated for that–for being soft-spoken, deeply spiritual, and intelligent, just a really lovely guy.
A long time ago, after I got to know him, I invited Earl to sit in on the Late Night program with my band. I got to watch him rehearse and play, and seeing him play live really made his style apparent. He started as a dancer in New Orleans, and I got a chance to watch his feet. If you listen to all the records he played on, particularly the Little Richard and Fats Domino records, he always had what they call that great second-line kind of syncopation in his feet. He literally danced on the pedals. I never saw anybody else's feet look like that when they played. He swung like crazy–everybody knows that–and he rocked like crazy. But his feet had this very light, extremely fluid thing. It was from his dance background. The drum world really lost an originator and a gentleman.
Lalo Schifrin (composer)
I have to tell you why I selected Mr. Palmer to work with me, not only on Mission: Impossible but on many other things I did. I was new in California, and I had previously lived in New York City for five years. Dizzy Gillespie brought me from Argentina–I was his pianist, composer, and arranger–and in New York City I discovered a drummer I liked very much, Grady Tate. I got used to working with Grady, and when I came to California I had to find someone who played like him, which was a very special style–that kind of feeling, that kind of intensity and energy. Advertisement
So I asked around for musicians who played close to the style of Grady Tate, and the grapevine told me to check out Earl Palmer. They were right. He didn't play exactly like Grady, of course, as he had his own personality. But I liked it and we got along very well. Not only did he record with me, but I took him on tours to Europe and the Middle East.
I started my jazz symphony orchestras with Earl. That's why he played on most of the projects I did at the time of Mission: Impossible.
I'm always going to remember Earl. He was not only a great drummer and a great musician–he was also a great guy.
Quotes compiled by Robyn Flans