JD of My Ruin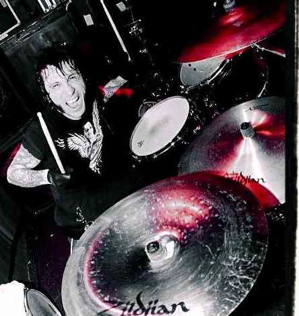 Hello all you Modern Drummer readers. My name is JD, and I'm the drummer for the Los Angeles—based hard rock band known as My Ruin. I've been asked to introduce myself and write my first blog for MD online, so I'll start with my background and inspirations to let you in on a little bit about me and who I am.
It all began years ago, growing up listening to drummers like Ian Paice, Don Brewer, Tommy Aldridge, John Bonham, Steve Gadd with Al Di Meola, and Buddy Rich, to name a few. (When I first heard the intro to "Pictures Of Home," all done with a single kick by Ian Paice of Deep Purple, I was sold!) These are some of the drummers who've help shape and influence me to kick ass behind the kit, whether it was Buddy Rich's elbow techniques, Tommy Aldridge's double bass drum executions, or the drum rolls of Ian Paice/Don Brewer and the late great John Bonham.
What I learned from these drummers was to play with and for the song and to shine when the song calls for it. I know there are drummers out there (especially in today's metal music) who just want to play the fastest blast beats and double bass runs, and I say more power to 'em. But for me it's all about the song! "Heavy" is all about the style of the execution and conviction with which you play your drums. Growing up in a small rural town in South Texas, it was always difficult to find fellow musicians who were dedicated enough to their craft to play with. For me, drumming is an art form, a passion-fueled and cathartic experience, and something I've always wanted to share with those who share my vision. Advertisement
I used to play drum solos all day long, take naps beside my drumset, and wake up and do it all over again! Those were the days. Then one day I decided to pack up my drums and head to Houston, Texas, where I joined a couple of bands, played a few small club tours, recorded a CD or two. Finally I made the life-changing decision to jump in my Chevy Malibu and hit the road to sunny California, where Los Angeles was calling my name. It was just me and my best friends (my drums).
Once in L.A., I started honing my skills right away by recording with various bands that needed drum tracks. I jumped from band to band, recording and playing the club circuit in and around Southern California and the surrounding states, and I was on my path–but something was always missing. All the members in bands I was playing with had different musical tastes from me. There were a lot of nu-metal songs with no lead guitar, and although the drum parts were all me, the songs as a whole were not. It took me a long time to finally find the band I was looking for, and that was and is My Ruin.
I'd known lead screamer and notorious bad-girl vocalista Tairrie B. for a while. We'd crossed paths in the L.A. club circuit going back to her days on the microphone with her old band, Manhole, and mine when I was bashing the skins in Fractura. One day I decided to send her and her band some love on their MySpace page, and I put the word out to them that I was diggin' their new album, Throat Full Of Heart, which was released earlier this year, and let it be known that if they ever needed a new baterista, I was available and more than ready to rock for the Ruin. I felt this was the band I was meant to be in. My band. They just didn't know it yet. Soon after, as fate would have it, Miss B and lead guitarist Mick Murphy gave me a call–and as they say, the rest is history. They offered me the drummer position on Thursday, May 15, and the next thing I knew I was on stage in Las Vegas at The House Of Blues with my boys and girl, opening for Hatebreed and Type O Negative. Advertisement
In no time, we hit the road, or should I say we hit the skies and headed to the U.K. for my first headlining tour with My Ruin. The ReligiosiTour, which started on October 15 in Manchester, U.K., stormed its way throughout England, Scotland, and Ireland and ended in Newport, Wales on the 31st, Halloween–a night and tour I will never forget. One of my favorite memories of our recent tour was the drum solo I played as we covered "Rock And Roll, Hoochie Koo," the classic tune originally made famous by Rick Derringer. It is also my first live recording with My Ruin.
I had so much fun playing for and meeting all the My Ruin fans overseas. It was a baptism into the band by fire, and an experience that I'll forever remember. I've developed a friendship and bond with My Ruin, and there's solidarity between us that can be felt during our live performances like no other band I've previously been a part of. Soon we'll be working on the new My Ruin album, and I'm looking forward to laying down the drums with my "Familia Ruina" and bringing what I have to offer into the recording studio.
In the meantime, my advice to those out there on the same path is to never give up, and to stick to your guns/sticks no matter what. Follow your hearts, and let the journey be your destination, whether it comes in the form of blast beats, heavy rock grooves, blues, or metal–whatever tickles your fancy. Just do it, and do it with CONVICTION. Advertisement
To check out the new album by My Ruin, live videos of the band, and the latest pictures from our ReligiosiTour, go to www.myspace.com/myruin And for those on MySpace who want to drop me a line, please do so at www.myspace.com/batteria.
A BIG thanks to Modern Drummer magazine for allowing me the opportunity to introduce myself, tell my story, and spread a little drum love!
JD/MI RUINA POR VIDA
Photo by Mark Latham.