Royal Crown Revue's Daniel Glass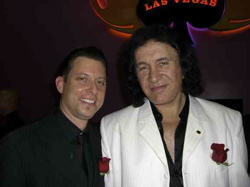 Hello, fellow drummers and MD readers!,
It's a pleasure and a privilege to throw my hat into this incredible blog, and to share a bit about what's been going on in my world for the last several years. As many of you know, I've held the drum chair in Royal Crown Revue for the past decade and a half, and 2008 has been a busy and productive year for us. In addition to putting out a new record (El Toro) and playing numerous festivals across the country this summer, we had the unique opportunity to work with the one and only Gene Simmons as part of his Family Jewels reality show. The band recorded three classic R&B tunes with "The God Of Thunder" at the former A&M studios in Hollywood, and then performed with him at the Hard Rock casino in Vegas. Contrary to rumors you may have heard, Gene was completely respectful of the band and was an absolute pleasure to work with.
In addition to my work with RCR, I've become increasingly involved with researching and writing about classic American drumming styles, everything from '30s swing to '40s bebop, '50s R&B, and early rock 'n' roll. Since 2000 I've conducted more than sixty interviews with a variety of drumming legends, from Louie Bellson to the late Earl Palmer, and I've written numerous articles and books dealing with all of the aforementioned styles. My book The Ultimate History Of Rock-N-Roll Drumming: 1948 -2000 is now in its second printing, and several months back MD published a roundtable interview I did with the rockabilly drummers of Sun Records.
Earlier this year, my new side project, The Rhythm Club All Stars, put out its debut CD. The band focuses on traditional swing music and features some of the best players on the SoCal scene for that style. Check us out here: www.myspace.com/rhythmcluballstars.
I'm extremely proud to announce the release of my newest book/CD package, The Commandments Of Early Rhythm And Blues Drumming. This project, eight years in the making, was co-written with the one and only funk master Zoro, and is presented in the same comprehensive, fun, and passionate style as his original Commandments Of R&B Drumming package. The new book is published by Alfred and had its official launch at PASIC in Austin, Texas.
So what's the new Commandments book all about? Essentially it's a wide-ranging overview of all the important blues styles of the 1940s and '50s, covering everything from jump blues to Chicago blues, Texas blues, New Orleans R&B, and early rock 'n' roll. It's also probably the most comprehensive primer on shuffle playing ever written. My hope is that this book will introduce many of you to a relatively unknown but amazing era of music that was incredibly influential on all the important stuff we play today: rock 'n' roll, soul, funk, hip-hop–even reggae and Gospel music. For more information and to order the book, please go to www.myspace.com/commandmentsbook.
Here are a few other links that you might find of interest relating to the various projects with which I'm involved:
Web site: www.danielglass.com
Online EPK (short film): danielglass.com/epk.html
Drum History Minutes (a feature at my Web site): danielglass.com/drumhistoryminute.html
Thanks so much, and whatever you do, don't forget to have fun doing it!
DG