Vinnie Zummo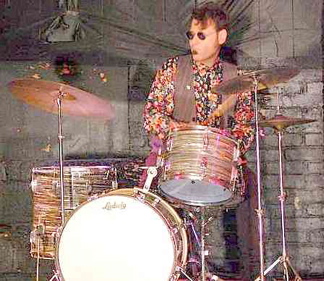 Hi, MD readers, Vinnie Zummo here. Though I'm best known for my seven years as a featured guitarist with The Joe Jackson Band, I've played the drums for as long as I've played guitar. On my latest CD, Swinging Guitar Sounds Of Young America, I finally decided to feature my drumming as well. I want to tell you a bit about the album because I'm really proud of it.
The CD is very different. Every cut is an original song but also a tribute to different artists, like The Beatles, Earth Wind & Fire, The Beach Boys, Cream, Les Paul, Bert Kaempfert, Pat Martino, Jeff Beck, Bob Wills, and Elvin Jones. It's very eclectic, and I consider it my best work. I've always had an extremely eclectic career, with a dual love of rock 'n' roll and bebop, and the CD reflects that. (A friend said he got "genre whiplash" after hearing it!) I wanted to pay homage to the music that first excited and inspired me back in the day. Though I play most of the instruments on the album, we have some great guest stars, including Joe Jackson, Graham Maby, Marshall Crenshaw, Will Lee, Shawn Pelton, Terry Silverlight, Mark Egan, and Gary Burke.
My fave CD moments:
The centerpiece of the CD for me is a song called "Ringo," which is a loving tribute to Mr. Starr and the Fabs. We tried to get as close as possible to the Beatle sound, and I took days to get just the right drum sound. The lyrics deal with my long-time obsession with Ringo's playing and how I'm always trying to turn non-Ringo fans onto his amazing groove. I played everything on the song except piccolo trumpet, which was played by Tim Ouimette, and cello, which was played by Reed Hays. It's my favorite song on the album as well as my fave drum performance ever! Advertisement
Another drum highlight is a song called "Take The Cream," which features Shawn Pelton on drums, bassist Graham Maby, and myself in a live Cream tribute. It was a two-take/live-in-the studio performance, and Shawn and Graham slam down a groove that's on fire! Shawn also plays on "SPJ," which features an eight-piece band and Joe Jackson burning it up on Hammond. We cut that track live in the studio, in one take, with no rehearsals–just a brief talk-through. I got to play a Zydeco accordion solo as well. Shawn, along with Billy Stuart on second snare and Jeff Ganz on bass, laid down a pile-driver Zydeco groove on this one.
The song "Retro Fuso" has Terry Silverlight on drums, synthesist Barry Miles, and me tearing up a retro '70s fusion trip. Terry gives an electrifying drum performance.
The amazing groovester Gary Burke plays drums on "Sanpaku Eyes" and "So Relaxed I'm Nearly Dead Bluz." The man has a deep, deep pocket. "Sanpaku Eyes" also features Mark Egan on fretless bass, and "So Relaxed" features Johnny Caruso on bass.
The album ends with an imaginary duet between Pat Martino and Elvin Jones where I play both roles. It's a free piece and gets pretty out there.
And finally—
The CD is a throwback in that it's kind of a "read the liner notes while listening" concept album. It was created with total respect for the artists honored, and with no desire to be "clever." I just followed my soul on this one and played what I wanted, with no ulterior motive. Technically and equipment-wise, it was quite a trip. Lots of cyber file swapping and equipment nightmares–but that's for another blog. Sorry if I went on too long, but this CD is a total labor of love and I'm extremely proud of it. I hope you will check it out! Advertisement
Currently I continue my eclectic path, writing music for TV and movies, producing hip-hop sample CDs for Zero G, producing artists, doing cyber session work, and touching up other artists' CDs with guitar solos, my home-rolled lo-fi loops, and esoteric guitar textures. I also perform around NYC with my jazz trio, which features the great Ray Marchica on drums. Currently I'm finishing up a video for my song "Ringo" that's directed by Paolo Marchica. It's coming out great and should be up on YouTube within the month.
For more on Vinnie Zummo, go to www.cdbaby.com/cd/zummo2 or www.myspace.com/vzummo.