Matt Barrick of the Walkmen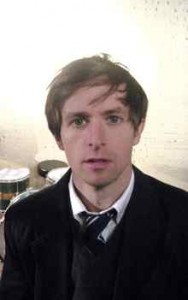 All drummers should add seeing The Walkmen's Matt Barrick playing "The Rat" live to their "bucket lists." Barrack's effort on the tune (from the Philadelphia– and New York–based indie quintet's 2004 album, Bows & Arrows) is a jaw-dropping exercise in precision and velocity. Whizzing by at around 200 bpm on especially spirited nights, Barrack propels the song with the hopped-up clatter of 16th notes on the hi-hat (which seem like 64th notes) and a manic succession of Keith Moon–styled fills.
Simply put, it's an awesome experience.
As striking a centerpiece as "The Rat" has become during The Walkmen's live shows–and as great a showcase as it is for Barrick–he says the band has probably outgrown such frantic tendencies. "There's certainly nothing as fast as 'The Rat,'" the drummer says about the material the band is working on for their next album. "I would be surprised if the band were to come out with something in that vein right now. That's the kind of thing we were doing when we were younger and more energetic." [laughs]
"The Rat" is a thrill ride, to be sure. But it only offers a partial glimpse into Barrick's m.o. behind the kit, one that usually eschews pro forma timekeeping. His approach, like his setup–a four-piece WFL kit with one crash-ride and a hi-hat featuring two old tambourines fastened above the clutch–is sparse yet unique. A "beat" sometimes consists of nothing more than Barrick thumping out a Morse Code-like rhythm on the floor tom, interrupted by the odd accent on the rack tom or cymbal crash. Advertisement
Even Barrick's straight beats usually feature a twist. An extended, drum-less pause mid-song adds tension to "The Rat," while a new track called "The Blue Route" finds the drummer alternating between a steady groove and peculiarly placed punctuations on the floor tom and hi-hat.
"We're split between Philly and New York," Barrick shares, "so [keyboardist-bassist] Walt Martin is the de facto drummer up there, and he comes up with some off-the-wall ideas that sometimes creep into my parts. He'll come up with drum parts when the songs are in their infancy. And we'll build and find our way to the dynamics from there–sometimes it takes an afternoon, sometimes a few weeks.
Patrick Berkery
See the rest of this article in the November 2008 issue of Modern Drummer, on sale now in print and digital.