Kelly Murphy of Temperedcast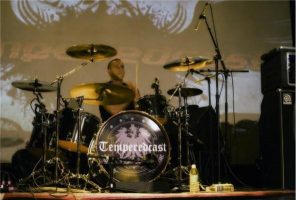 What's happenin', Modern Drummer world?! Kelly Murphy here from the band Temperedcast. For those who aren't familiar with us, we're a heavy melodic rock band from Seattle. We just finished our sophomore album, Reach, and are about to go support that out on tour with Puddle Of Mudd and Red. But before I get into any more details about what we have going on, let me fill you in real quick on how I got into this labor of love.
I was born, I cried, I gave my dad a high-five because I had a penis (I knew he wanted a boy), and I saw Tommy Lee on MTV and knew I wanted to drum for the rest of my life. It took a couple of years to convince my parents, but they finally brought home a snare drum for me to learn on. It had four lugs missing (which happened to be the same number of snare wires that were left), and yes—it was the coolest thing I'd ever seen. From there, I took the logical path through drum lessons, working my way up to a full drumkit, playing in the school band, and finally finding someone in middle school whose dad owned some guitars. (Close enough, right?) I've never been without a band ever since, and I imagine the passion for music will always be there.
There have been countless influences on my drumming, but some of my favorites growing up were guys you've probably never heard of—like Neil Peart. (There's a free plug, buddy—now anyone reading this can go check out his little band, Rush.) My first real favorite drummer (no, it's not a man-crush) was Vinnie Paul from Pantera. Advertisement
Now, back to the current situation. Temperedcast starts the tour with Puddle Of Mudd on October 29 in Amarillo, Texas. The first single off Reach, "Coming Down," has been getting radio airplay across the nation. Check out our dates at www.temperedcast.com. I hope that anyone reading this can stop by, introduce themselves, and talk a little drum shop.
I'd like to thank Modern Drummer for this opportunity to contribute and to the fans of the magazine (I'm with ya) for checking this out. I hope you all continue to live the dream. See ya on tour.
Kelly