Buckcherry's Xavier Muriel
Story by Billy Amendola
"When I practice, I don't do it to rock 'n' roll. I'll put on old Prince, Kool & The Gang, or Michael Jackson records. I think a lot of people forget how incredibly grooving those records were."
The last time MD spoke with Xavier Muriel–for an online Web Exclusive interview in late 2006–Buckcherry was celebrating their brand-new lineup and huge "comeback" success story. The Los Angles rock band released their debut way back in 1999 and a second record, Time Bomb, in 2001, but disbanded shortly thereafter. Then, in 2005, the two founding members (and main-songwriters) Josh Todd and Keith Nelson put together a new band featuring guitarist Stevie Dacanay, bassist Jimmy Ashurst, and powerhouse drummer Xavier Muriel (replacing original drummer Devon Glenn).
After a four-year hiatus from recording–and rejections from just about every major record label–in 2006 the "new" Buckcherry released 15, before signing a deal with Atlantic Records. The band then exploded on the charts with hit after hit. First was "Crazy Bitch," which was nominated for a Grammy for Best Hard Rock Performance. Then came chart-toppers "Next 2 You," "Everything," and the Top-10 smash "Sorry." The multi-platinum-selling CD has been on the charts for two years now and is still selling. That's not bad for Muriel, a motorcycle-building kid from Texas who always dreamed of becoming a rock star. Advertisement
Growing up in a musical family, Xavier thought about being a professional rock drummer ever since he first saw KISS in concert as a young boy. Xavier spent years working with local bands and building Harley motorcycles to pay the rent, and eventually relocated to Los Angeles, where he was asked to join Buckcherry. The rest, as they say, is history.
Not one to overplay, Xavier possesses technique that is hard, steady, and grooving. Of course, his goal is to play whatever is needed for "the song." But Muriel is focused like a laser beam on making sure the band's fans are bopping their heads and rocking out night after night.
Watching "X" play, some might actually be afraid of him, thinking he's the wild, out-of-control type. I don't want to spoil his image, but after getting to know Xavier, we can say he's one of the nicest, most respectful, and truly grateful persons you'll ever want to meet. Not much has been written about him, as most of the press seems to focus on the band and its "image." But that's fine with Xavier. A closer look at his abilities behind the kit reveals him to be a great rock drummer at the top of his craft. Advertisement
MD spoke to Xavier as the band was wrapping up their new CD, Black Butterfly, and preparing to head out on the road with Mötley Crüe for this summer's Crüfest, which also features Papa Roach, Trapt, and Crüe bassist Nikki Sixx's side project Sixx: A.M. Read on, to learn how great ability, determination, and a positive spirit can lead to rock superstardom.
MD: Congrats on the new record. I know you've been busy on tour, but how are you?
Xavier: I'm good, thanks. Everything's been happening so ridiculously fast that it's been like a whirlwind, nonstop, day-to-day, with video shoots, photo sessions, and recording. But I have to admit, this is one of the most exciting things to happen to me. I've always wanted to be in Modern Drummer. I grew up reading it!
MD: The last time we spoke the band was just starting to break big-time with 15, and now look.
Xavier: Yeah! I guess every band or artist wants to create the best body of work possible and then put it out there in hopes that the masses can associate with it, take it in, and like it. And for this to happen to a band that had basically been written off by pretty much everyone in the industry is a great feeling. Advertisement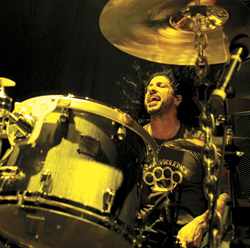 We put a lot of hard work and heart into that last record, and we did everything on our own dime–and it's still selling. It's been a great ride. And now we're ready for round two. After touring a multi-platinum record for twenty-five months and doing four hundred shows, you come off of a tour like that, first of all going, "Wow, how great is it to still be friends and dig each other as bros and musicians."
I remember every minute, pretty much, of what it took–all the times when you're tired, ill, lonely, sad, whatever–all the emotions a human runs through while doing this whole circus. I can now sit back and go, "Man, it was all worth it."
MD: Many kids don't realize how hard this business really is and all the work that goes into it.
Xavier: Exactly! When I was fourteen years old, this is all I dreamed of. But yes, it's a tremendous amount of hard work. I don't think anyone of us in the band takes anything for granted. We're five dudes who are lucky enough to play rock 'n' roll and make a living at it. When we went back to writing this new record, we were all of the mindset of, "Okay, nothing has changed for us–we're still in the same room–no new lavish rehearsal space." For the first record, the mindset was, we have nothing to lose so let's just go balls out. And for this new record, we're feeling that we really have something to prove because people think we're a one-shot hit. Advertisement
We want to put out the best body of work for us so that if anything ever does, God forbid, go south, we can always look back and be excited and happy about it and not go, "Man, we shouldn't have done this, or we should have done that." We all have way too many years under our belts to have someone else drive the boat.
I think that's a really big thing that a lot of bands nowadays miss: They don't stay true to themselves, whatever that may be. If you're a speed metal band, be a speed medal band. If you are a Top-40 hit-making machine, be a hit-making machine. Don't let other people, record labels, or what's happening on the tube dictate what you are, because at some point in time that flavor is going to adjust itself to something else. And who knows, if you stay true to yourself, that flavor may be you.
See the rest of this interview with Xavier Muriel in the November 2008 issue of Modern Drummer available from www.musicdispatch.com.