Tyler Mahurin of A Static Lullaby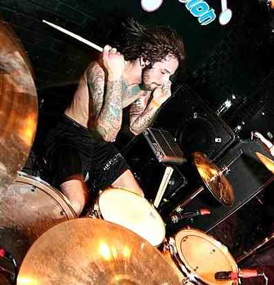 What's up, everyone. So I've been in a few bands before A Static Lullaby. One that you might have heard of, and a bunch you never have. I was in A Thorn For Every Heart before joining ASL, and before that a semi-punk band called 10 Times A Day. Before that it was a self-deemed thug rock band called Innerside, and before that a few high school bands. I was also in the high school concert band.
I've been playing drums for roughly sixteen years, and I've loved every minute of it. I got started, believe it or not, by being as lazy as I still am to this day. I saw a music video when I was seven years old, and I knew right then and there that I wanted to be a musician. I wasn't sure what I wanted to play until I realized that I wanted to sit down and make music. From then on is history.
A Static Lullaby just released a new record on September 9 called Rattlesnake (which everyone should go and pick up by the way, ha-ha). We will be touring non-stop for quite some time on this record. I'm really stoked for this one because it's ASL's fourth full-length and my first with them. This record is ten songs of pure madness; a lot of people have been saying it's our best record yet. We will be going out with Maylene & The Sons Of Disaster for the rest of the fall, and we have plans to go out for some of winter. Advertisement
I've been touring since I was seventeen or eighteen years old and I've had quite a few cool experiences in my life. One that really sticks out to me happened when I was in A Thorn For Every Heart. We had been bumped up to Interscope Records, and were being looked at by John Reese himself of Freeze Management. He took us out to a really nice dinner on his AMEX Black card–booyah. We had just finished recording a couple more songs with Mark Hoppus for our next album, which was never released. But the highlight of my time there was the day I didn't bring my drums to record, and Mark had someone call Travis Barker to see if I could track on one of his many, many drumsets. He agreed and I played on his orange acrylic OCDP kit with the Famous Stars 'N' Straps logo sandblasted in it. Afterwards I got to thank him and hang out with him in their studio. Of the few days we were there, a bunch of Mark's celebrity friends came by to say what's up–Skin Head Rob from the Transplants—and Paul Wall came by with some ice for Travis. That's by far the coolest experience of my life to date; I plan to have more coming up.
For more on Tyler Mahurin and A Static Lullaby, go to www.myspace.com/astaticlullaby.