Pete Thompson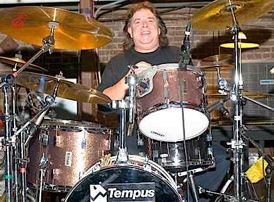 Hello, MD readers. I've been having a pretty busy past few years, working on CDs, DVDs, live recordings, and film score work with Robin Trower, Pete Haycock, Robert Plant, Eric Bibb, Melanie, David Byron, Ken Hensley, Murray Head, and Andrew Lloyd Webber and Tim Rice, to name-drop a few—.
I've recently been concentrating on solo projects, teaching, and setting up a small studio in the Texas area. I taught drums for six years in the UK and found it to be too enjoyable to turn away from, so I'm in the process now of setting it all up. I plan to be ready with an operational studio within four months.
When I first started playing drums, it became apparent to me that my timekeeping was going to be a very valuable tool to draw upon–as the musicians who couldn't hold down the obvious were many indeed–and it was a great learning curve from the outset. I'm self-taught, and I sometimes find that a hindrance, mainly because I could probably have been as good as some of my peers out there. But in other ways being self-taught helps immensely, as my photographic memory–and being used to flying by the seat of my pants–have enabled me to develop a great all-around groove and flowing style of playing with a relaxed attitude–whilst pounding away. Advertisement
The great drummer/producer Narada Michael Walden once said to me, "I wore the crown!" It was a day in my life I shall never forget–and I have it on film as well! My biggest influences have been the wonderful Jeff Porcaro for his perfect groove and musicality, Steve Gadd for everything, Ian Paice for his taste, and Bernard Purdie for his heart and soul. These guys are the drummers I draw my inspiration from, and they never let me down.
I've most recently been on tour with Robin Trower, with whom I've recorded a live double CD, and I'm happy to say for the duration of the show I'm completely happy with my performance. It will be released this November, in time for the upcoming 2009 tour.
I use DW drums on tour, with a really great Paul Mason Tempus snare drum. Check out the drums, fellow drumsters, mine is a fiberglass 6 1/2″ shell, and it sounds monstrous. All my cymbals are a great mixture of Paistes and Zildjians. Advertisement
Lastly, I've been using Evans drumheads since meeting the wonderful Steve Lobmeier at D'Addario, and they've been keeping me sounding killer all year. Check out an interview I did with Steve at www.tothestage.com/MediaLibrary.PAGE.
If anyone wants to contact me, please feel free, at www.myspace.com/trapsboxone.
Cheers,
Pete