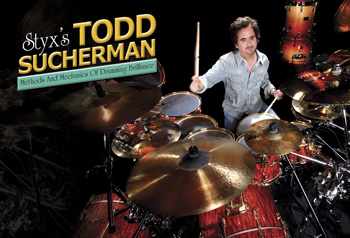 by Ken Micallef
"Anyone who has to honestly play Styx music will realize that there's more here than meets the eye. I get to play a lot of drums in this band."
Great drummers often come from the most unlikely places. Consider John Bonham (Redditch, England), Vinnie Colaiuta (rural Pennsylvania), Keith Carlock (backwoods Mississippi), or Thomas Haake (Sweden). Forget relocating to New York City or L.A. to learn your craft, these heavy cats dedicated themselves to their art and the music followed them.
In a similar fashion, there are great drummers across the world strutting their super dynamo chops and tasteful groove conceptions in bands that might seem less than ideal showcases. A member of platinum-selling Chicago institution Styx for the past nine years, Todd Sucherman is a mighty drummer with tremendous taste and equally impressive technical skills. You might think you know popular Styx songs like "Blue Collar Man," "Lorelei," "Too Much Time On My Hands," and "I Don't Need No Doctor"–but one listen to Sucherman lays waste to your preconceptions.
Most succinctly on Styx's CDs Cyclorama and Big Bang Theory, and the DVD One With Everything, Sucherman couples impressive technical skills with the discernment necessary to turn great drumming into great music. When Sucherman talks about his dad, Arnold Sucherman, you begin to understand where his unique drumming worldview originated.
"My dad was the house drummer for the club Chez Paris in Chicago for eighteen years," Todd says. "He gigged through the '30s, '40s, and '50s with everyone from Sammy Davis Jr. to Liberace to Lena Horne to live local radio broadcasts. My dad taught me how to play time and how to swing. He wasn't much of a technician, though he had a sweet buzz roll. But he really instilled a sense of responsibility in me. And he didn't dictate anything musically; we'd listen to Count Basie, Led Zeppelin, and Buddy Rich."
Todd is quite the technician, as seen and heard on the One With Everything DVD, which also features the Contemporary Youth Orchestra Of Cleveland. If you ever thought school recitals were dull, then slip this into your player. Satisfaction guaranteed. Accompanied by an excited 171-piece orchestra, Styx rages through all their hits, with Sucherman's reworking of said classic rock anthems a feast for the drumming senses. He remakes the tracks by bringing out inner details that didn't exist in the original arrangements and by applying some highly combustible drum logic. Serving up terrific double bass drum technique and seemingly unlimited flam variations, the drummer also plays with a tremendous clarity, control, and musicality.
And now there's yet another vehicle for drummers to view Sucherman's massive skill set: his new instructional DVD, Methods And Mechanics (Altitude Digital/Alfred). Todd covers myriad subjects, including a brain-twitching performance on progressive violinist Jerry Goodman's "Tears Of Joy" (13/8 anyone?), three-snare technique, a Steve Smith solo homage, various think pieces ("Vanguard Of The Moment"), the "Seven Minute Practice Experience," "Swing And Brushes," "Samba Solo," "Playing In 13," and "16th Note Odd Time Signatures" (21/16 and 19/16!). It's a stunning accomplishment.
Todd will appear at this year's Modern Drummer Festival in September, where his even-keeled explanations (and applied performances) of typically hard-to-fathom subjects will surely enlighten the crowd. But though he possesses ample chops, Sucherman knows that playing music is much more than that. "All I ever wanted to be was a working musician and to be able to pay my bills and get through life doing something that I love," he says in Methods And Mechanics. That's a goal any musician can aspire to.
Side note: Todd shows his more sensitive side on two new recordings: Beach Boy legend Brian Wilson's That Lucky Old Sun, and Taylor Mills' Lullagoodbye. Side note 2: Methods And Mechanics is one of the most gorgeous looking DVDs ever, filmed in a beautiful wood-paneled studio with large picture windows revealing a view of rock cliffs and a flowing blue river below. With equally stunning sound quality, Methods And Mechanics sets a high bar–just like Todd Sucherman.
MD: Were you a Styx fan as a kid?
Todd: I was. Being from Chicago, as I am, you couldn't escape them. They had four triple-platinum records in a row; they were the first band in history to do that. I was playing gigs with my brothers from the age of six [as The Sucherman Brothers], and we played the Styx songs in our repertoire. Who knew years later that I'd be the drummer in the band?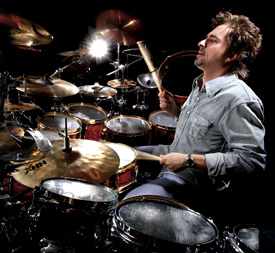 MD: Styx songs like "Lady" and "Come Sail Away" have been used recently in movies and TV commercials for comedic effect. How do you play these songs with full sincerity, given how they're viewed in contemporary popular culture?
Todd: You play these songs and you see the audience respond to the emotional heaviness of what these songs meant to them growing up. That isn't really something to be taken lightly. The songs mean a lot to the fans; they are the soundtrack to their glorious misspent youth. And since the departure of [Styx keyboardist] Dennis DeYoung, the two biggest songs that were used for kitsch effect, "Babe" and "Mr. Roboto," are out of the set list.
As far approaching the music drumistically, [original Styx drummer] John Panozzo was a very interesting drummer. He was very active but with limited technique. And I mean no disrespect; he just left very interesting templates. I honor the original flavor of the songs so they feel the same, yet pick my spots for "hippening" things up a little bit or playing some denser figures, but without necessarily drawing attention to myself.
MD: You actually raise the bar of the band's performance with your incredible attention to detail and high level of clarity and power. I bet these songs are harder to pull off than most drummers realize.
Todd: There's a lot more under the surface of these songs than Styx gets credit for. The songs have interesting arrangements and different feels within a given song structure. Sometimes even the structure of the song will be very interesting, for instance, in a song like "Sweet Madam Blue" or some of the longer epic progressive songs.
Anyone who has to honestly play Styx music will realize that there's more here than meets the eye. I get to play a lot of drums in this band, a lot of notes. This isn't a pocket gig, though obviously the quarter note has to be honored and it has to feel good. But it's not a "boom-whack, boom-boom whack" gig.


Read the rest of this interview in the October 2008 issue of Modern Drummer and see Todd live at the Modern Drummer Festival Weekend this September 20 and 21, 2008.