Windsor's Ian Falgout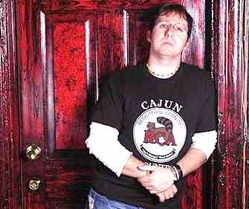 Hello, all. It's been a busy and interesting year in "iangroove" land! After spending almost three years straight on the road touring with country acts, I've finally decided to get back to my normal world, starting with the return of Windsor!
With a quick summer tour with country act Marshall Star, I was able to share the main stages at festivals across the US with Danielle Peck, Craig Morgan, Dierks Bentley, Trace Adkins, and Kenny Chesney! All the bands are really nice and down-to-earth. Also, great to have your mug on a JumboTron projected to thousands—yes, my nose looks HUGE!
Now that the summer tour has wound down, I have an opportunity to get back with Windsor with a CD release party/show at the House Of Blues in LA on August 21! We'll have some celebrity guests and surprises, and we look forward to having a good time and seeing many friends and fans who've been anxious for our return. We've been lucky that people still remember us from past Warped Tour appearances and the bit of "love" we had from MTV. Advertisement
The new CD, Forever Endeavors, should be available by show time. Keep checking www.windsormusic.net for details. The drum tracks were mostly recorded at Tantrum Studios in Montecito, CA, and I was able to use Aynsley Dunbar's kit for the tracking. He is a really nice, humble, tall man.
So it's, "Out with the cowboy hats and in with the new violet faux hawk!" It'll be great to get back to the LA area and hopefully visit my friend and mentor, Earl Palmer. Earl, one of the most recorded drummers of all time and one of the most influential cats in modern drumming history, has been ailing. You all need to get educated on this man and see what he has done for us drummers! Earl taught me so much about attitude and mindset, and that has helped me in my career more than anything someone could have shown me about licks, sticking, or notes. I thank him, and hope I can carry on his passion and attitude for years to come.
The last time I was in LA, I was a celebrity judge for Guitar Center's King Of The Blues contest with fellow judges Elliot Easton (The Cars) and Fred Kaplan (Fabulous Thunderbirds). It was fun to be Simon Cowell for the contests, and all of us judged petty harshly. It was a great experience, and I enjoyed Elliot's quirkiness, stories, and fashion sense. Advertisement
On a fun note, I have a new vice: karaoke. I've always sung lead, and on many occasions I'll do so either from behind the drums or as a front man for fun side projects. I'm usually the "high harmony" guy or the "take the chick parts" guy—LOL. I've studied singing, and I was involved in theater for most of school, so I always love to sing. Recently I've gone to the dark side, having fun at karaokes across the nation. Whenever I get into a new town, I try to find the karaoke hot spot and get the band to cruise out or invite fans in the area to meet up to sing some fun songs. This has caused me to be brought in as a celebrity guest DJ a few times, and what fun that is. Oddly enough, I have connections with many of the artists whose songs I'll sing. Kind of fun, and the people get a kick out of it. So if you want to have fun with your band and bond with fans, go out and make an ass of yourself singing '80s chick songs!
Look for me to be out on the road and playing some fun side shows with my own band, Kit Shicker, in which I move to the front man/lead singer role. We'll start out with some shows in the Dallas area later this year.
I endorse Taye drums, Aquarian heads, Stagg cymbals, EMD music, Ahead sticks, Flix sticks, and HQ Percussion. And I was recently sent a large selection of PureSound Percussion snares to try, and it seems to be my newest family of equipment-makers to join! Thanks, Steve @ D'Addario! Advertisement
And thanks for reading. I hope to see you all on myspace or on the road!
Ian
For more on Ian, go to www.myspace.com/iangroovedrums