Drum God: Dave Grohl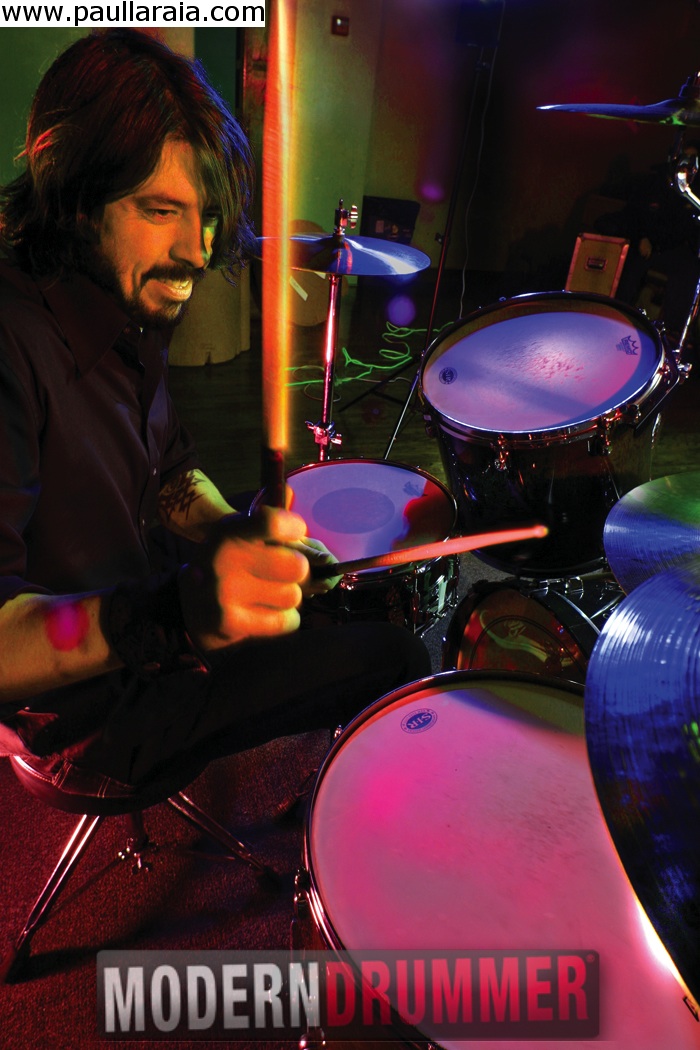 Born
January 14, 1969, Warren, Ohio
Bio
Born in Warren, Ohio, and raised in Alexandria, Virginia, Grohl kicked off his music career in the 80's drumming for the band Freak Baby and later joined the Washington, DC punk rock band Scream. Grohl moved to Seattle and joined Nirvana in 1990, after being recommended by Buzz Osborne of the Melvins.
Although Dave was most known for his distinctively heavy-handed drumming in Nirvana, he was actually more comfortable on the guitar! In March of 1992, Dave Grohl let us in on a couple secrets: "I never studied drums," he said, "and I don't read. I actually play guitar better than I play drums. I just got more into the drums because I happened to be a better player than the drummers they had in the bands I was in."
He might not have been a traditionally schooled player, but Grohl was clearly doing something right from the get-go: "Someone came up to me during the Scream reunion tour, and he gave me a CD of his band and said, "I'm an old Scream fan, and your drumming with them influenced this." That was the first time anyone ever said that, and I felt like I wanted to cry. Trophies are great, but having touched someone musically is a whole lot better."
Style & Technique
More than almost any other player in recorded history, Dave Grohl 1) consistently has a drumming statement to make, 2) frames that statement in absolute service to the musical scenario, and 3) makes that statement with complete clarity and unbridled passion. Dave once said that, "The drums have to propel everything." That's an important element. Whether the drums stand out to people or not isn't what's really important. That it sounds like a big bomb going off is." He also believed that louder is usually better, often hitting two toms or two cymbals at once and focusing his energy on powerful playing with less notes. However, he also understands how to use dynamics and does so very effectively.
Hands
"When I was young," Dave remembered, "I tried to focus on consistency between the hands. When doing a single-stroke roll, if you're going to make it powerful and you're going to blast through the snare, some fills sound best when there are no accents and both hands are consistent, sounding like a machine gun. Honestly, the reason I do single-stroke rolls and flams is because of my learning to play the drums on pillows, with no resistance. Then it's just a matter of creating [fills] that are interesting."
Foot
Grohl's bass drum technique is all about optimum transfer of power: "I don't put my heel down when I play my kick drum, I kind of pounce on it with the ball of my foot. That way I can hit harder and put more weight into it. Also, by sitting very low–I sit as low as possible–I can put a lot more weight into it because I'm pushing forward."
Influences
Dave says, "It's important for people to hear the drummer in The Melvins, Dale Crover. I still say to this day that he's the best drummer in the world. There is no one who does what he does, and there's no one who could. I get goose bumps when I hear his playing. He's turned drumming on its side, and if I'd never heard The Melvins, I probably would not be playing the drums, because he made me realize that there's a lot more to drumming than most people hear."
Additional Info
Dave believes it's very important for drummers to think like songwriters, "Composition and songwriting should be just as important to a drummer as they are to a singer," he went on. "There are hooks in songwriting, those moments that catch you and stick in your brain. Drumming should be the same way."
Select Discography
With Nirvana
* Nevermind (1991)
* Incesticide (1992)
* In Utero (1993)
* MTV Unplugged in New York (1994)
* From the Muddy Banks of the Wishkah (1996)
* Nirvana (2002)
* With the Lights Out (2004)
* Sliver: The Best of the Box (2005)
With Foo Fighters
* Foo Fighters (1995)
* The Colour and the Shape (1997)
* There is Nothing Left to Lose (1999)
* One by One (2002)
* In Your Honor (2005)
* Skin And Bones (2006)
* Echoes, Silence, Patience & Grace (2007)
With Tenacious D
* Tenacious D (2001)
* The Pick of Destiny (2006)
With David Bowie
* Heathen (2002)