Rodney Howard on Tour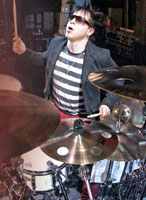 Touring extensively with Gavin DeGraw, Regina Spektor, and most recently Avril Lavigne, drummer Rodney Howard plays a lot of TV gigs. "What's different about playing a TV show is that you have three minutes to put across the beginning, middle, and end of a song," says Howard, who has played on a number of shows including Jay Leno, Jimmy Kimmel, Carson Daly, and Ellen DeGeneres. "I may overdo the soft parts and the loud parts."
    Howard started his musical career in high school as a sax player. But at age seventeen he tried drums, and quickly found his passion, eventually studying percussion at East Carolina University. Howard's first big break came in 2003, when he played on Gavin DeGraw's debut,
Chariot.
He then toured with DeGraw for two years. "Gavin's music is not R&B," Howard says, "but it's informed by R&B and R&B-influenced rock. It rocks, but it also has to swing and have a lilt to it."
Following the DeGraw tour, Howard did session work in New York until he was asked to tour with Spektor. Then in 2006, Avril Lavigne, who he had met a few years earlier, called and asked the drummer to join her tour. Howard's been playing with her ever since.
"In Avril's gig, you must bring lots of energy and enthusiasm," he admits. "It's a very energetic, driving thing. I also try to make it as visually exciting as I can for the people watching. I want it to look like it sounds and sound like it looks." Advertisement
Harriet L. Schwartz