Ricardo Meléndez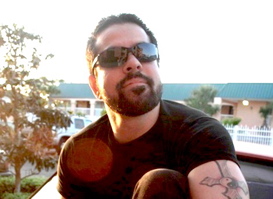 I was introduced to drumming as a source of self-discipline at the age of eight. That's when I got a five-piece drumkit, fell in love with rhythm, and became obsessed. It became the center of my life. Along with the drumkit, my dad got me a couple of videos and records: Moving Pictures by Rush, Appetite For Destruction by Guns 'N Roses, and the Police Around The World VHS. (The minute I saw Stewart Copeland and heard everything that came out of his drum playing, I knew that my goal as a drummer was to become Stewart Copeland!) Five years later, after a self-made routine of practicing two to four hours every single day, I had learned everything from The Police (maybe not as good as Stewart Copeland, but I tried), The Ramones, The Misfits, and Danzig. I was ready to go to the next level: playing drums for the local church.
Back home in Puerto Rico, all the churches played plena, salsa, merengue, nova trova, rock en Español, and very classical Latin beats, and all I knew how to play was punk and reggae. I was extremely nervous. I loved artists like Roy Brown, Glenn Monroig, Maná, Hector Lavoe, Willie Colon, and Ruben Blades (to name a few), who play these genres of music, I just had no clue as to how to transcribe all that percussion onto my drums. The church band was formed of family-oriented people who had been playing these genres for ages, and they were amazing coaches and teachers.
One in particular stood out, the percussionist. He took me under his wing and opened my eyes to wonders like Luis Conte, Horacio "El Negro" Hernandez, Dave Weckl, Steve Gadd, and many more. For three straight months I would bring my drums over to his house, and we would jam in the traditional styles of the island. Words fail to describe how exquisite I found the various Latin genres and tribal African rhythms, and still do to this day. I taught myself the songo beat, finally learning its name five years after I mastered it. At this point I felt I was ready for my first performance. Advertisement
My first time playing was truly unforgettable. We played for all the masses that took place on all Sundays. The first mass was at 7:00 A.M. and the last one was at 7:30 P.M. Anyway, I was so nervous that very first time, I figured I'd probably fall off my drum throne in the middle of a song, or do something else that would potentially embarrass me. I was a wreck, sweating profusely, shaking, vomiting, diarrhea—.and once I got to the church it got even worse, to the point where my dad had to get me a pair of clean pants! To save myself, after the first wreck of a song was over, I felt right at home and rocked "the house of God." The gig lasted five years, and then I graduated high school and moved on to bigger and better things.
Once I turned fifteen, another surprise awaited me. My dad got me my very first professional drumkit for Christmas–a seven-piece Yamaha Stage Custom Absolute, with professional cymbals too! It is this kit I use in my band, Dearestazazel, and I've used it on all of our recordings. I was still performing with the church when I began playing in cover bands and writing and recording original music. All were heavily influenced by Latin styles of music, but still rock 'n' roll. Through these experiences I was introduced to a different world and a new tool: the metronome. One of the first things the producer taught me in the studio was that LESS IS MORE. I went home and picked my spots on every song: what drum fills I was going to do, where I was going to do them, etc. I broke down my drum playing as if it were a mathematical equation. It helped tremendously, making everything sound more professional, and I finished all fifteen tracks within eight hours. The end result was gratifying and pushed me to want to learn more and, therefore, practice more.
Latin jazz became the focus of my musical influence and pushed me to practice more hand-foot independence and coordination. I incorporated a foot cowbell and began using the hi-hat as a percussion instrument, not only as a time-keeping tool. I learned how to play triples and doubles with my feet while playing the few rudiments I knew with my hands. Advertisement
When I turned eighteen my father passed away, and I became more determined than ever in pursuing my dream of one day "making it" in this business. The drums, which were already special to me, became sacred.
In college I studied classical percussion, once I completed my studies. I moved to what we call "The Big Island," a.k.a. the USA. I started a band called Fallen Wisdom, which was a cross between punk and metal, and we signed to Century Media. Fallen Wisdom toured for two years straight and recorded three CDs. The recording sessions were very fun and casual, and I made it a point to go by the tried-and-true "less is more" motto. Since studio time was more than we could afford, I had to be quick and efficient. So, like in previous recordings, I mathematically picked my spots for drum fills, etc., and I was able to record thirteen songs in one take and in less than four hours.
After four years, the vocalist and I decided to break up the band and move on to other projects. I helped produce and record all the drums for his band Dead Rites (signed to Hedonism Records) and then landed the sweet gig I'm in now, Dearestazazel. Advertisement
I'd gotten a call from a chamaco by the name of Peter Armstrong, who told me that he was trying to form a band and was missing a drummer. He'd heard audio tracks of some of my previous musical projects and thought I'd fit right in. He seemed very passionate. Never one to turn down an opportunity, I auditioned. I was drummer #50—and I walked out with the gig. This was my first time ever playing in an all—English speaking band, but with a positive mind, it worked out beautifully. My versatile musical background blended beautifully with the band's style. I tried to create clever and tasteful drum beats for the catchy melodies.
Come Closer, Dearestazazel's first CD, was a great learning experience for me. Because the music was more methodical, it made my studio recordings easy–though in this band I recorded with only a scratch guitar and a click. A year later we recorded our follow-up CD, Touch Me. We made a winter tour through the East Coast, then showcased for One Eleven Records, signed a record deal with them, relocated to Florida, and recorded Be Mine, which will go on sale this coming July 8. This album truly captures the essence of our sound.
I want to thank our fans and Modern Drummer, who consistently put out amazing issue after amazing issue. I am a fan first. You guys are awesome! Plus, Saluda cymbals, who believe in me enough to support me. Thank you! I'd also like to thank my family, who I left back home in Puerto Rico to pursue this crazy dream, and above all, my father, José Francisco Meléndez–source of life, inspiration, unconditional support, and love, and the light in my darkness. I love you, and ten years later I still miss you! Advertisement
See you all on the road!
Ricardo Meléndez