Greg Ellis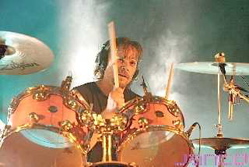 Hello, from my studio in Beachwood Canyon in the Hollywood Hills. My name is Greg Ellis. Although you might not immediately know my name, it's a fairly good bet that you've heard my playing many times. Most of my work during the past few years has been on film scores. Most notably, I played all the percussion and drums on the movie 300, and all the percussion on Ironman as well as The Matrix: Reloaded and Revolutions. I just finished working on the new Ridley Scott film, Body Of Lies, starring Leonardo DiCaprio and Russell Crowe. I was also the co-founder of the world music duo Vas (Narada/EMI) and have worked with artists ranging from Billy Idol to Beck to Mickey Hart. Currently I am the drummer for the British psy-trance group Juno Reactor, and I've have just released a project with singer Lisbeth Scott called biomusique (Kosmic Music).
It's been a crazy journey the past twenty-four years, since I moved to Hollywood. It was 1984, and I had just finished my first year attempting to major in music at San Jose State University. It clearly wasn't the path for me. I remember reading Modern Drummer at the time and seeing an ad for Musicians Institute, which had just opened PIT, a school for drummers, the year before. The school at the time was tiny compared to what it is now. We only had about seventy drummers in our class. It was an incredibly talented class, though: Curt Bisquera, Jimmy DeGrasso, Enzo Todesco, and Carla Azar were a few who made their pilgrimage to PIT in 1984 and have made their mark in the music business. I think we definitely kept each other on our toes. It took me a couple of years to get my career going, but eventually I got a tour with a band on A&M Records and never looked back. I spent most of my twenties as a sideman and session player, playing only drumset.
All that changed when I was twenty-eight and read Mickey Hart's Drumming At The Edge Of Magic. That book blew my world apart. I think all drummers should read it. It opened me to the world of ethnic percussion and the deep role indigenous rhythms have played in the evolution of our collective psyche. I became obsessed with percussion and collecting instruments from all corners of the globe. These drums not only opened my musical world but also made me deeply aware of the cultures they came from. I set up a studio in my house and started recording these drums by themselves, amazed at their musicality. I began playing with master musicians form Iran, India, Turkey, Africa, and South America. I began to learn the deeply mystical and spiritual side of rhythm that has long been forgotten in the West. My focus quickly moved from kit to percussion, and I eventually formed the aforementioned world music group Vas and released four critically acclaimed albums. In 2000, as fate would have it, Mickey Hart heard one of our CDs and invited me to record on an album he was producing for the Japanese Taiko drumming group KODO. It was an incredible experience to finally connect with Mickey. He had no idea Drumming At The Edge Of Magic had such an influence on me years earlier, or that the music of mine he responded to likely wouldn't have even existed had it not been for the book. Advertisement
I ended up touring with Mickey for years, working with Zakir Hussain, Airto, Giovanni Hidalgo, and other incredible rhythmatists. Playing with these fully realized musicians deepened my knowledge of how powerful organic rhythm is, and I tapped into the healing capabilities of these drums as well. The result was RhythmPharm, which I've released as a seven-CD box set of pure, organic rhythm, with no edits, loops, or click tracks. The idea was to offer a rhythm pharmacy using the instruments and teachings I had been surrounding myself with.
The intention of sharing all this is to inspire drummers to realize that we have a unique opportunity with our instrument to tap into the source of how and why music was created. We play the original instrument. No matter what style of music you play, you know the effect a good groove or a bashing beat can have on an audience. It's straight-up trance! Which also means we have a responsibility in what we do. That responsibility is to know that no matter how much electronic rhythm has dominated our world and we've been demanded to create an alliance with it, the real power of rhythm comes from a real drummer. Play along to your loops and samples and click tracks all you want, but never stop the journey of deepening your sense of rhythm off the grid. That's where the true rhythm lives. Check out the music of drummers from as remote a place as you can think of, and you'll still be able to understand its language. That's a strong brotherhood we're a part of, not to mention a lineage of about 40,000 years!
Thanks for reading.
You can contact Greg Ellis at greg@rhythmpharm.com. For more go to www.biomusique.net, www.reactorleak.com, or www.rhythmpharm.com.