Glen Graham: Back With Friends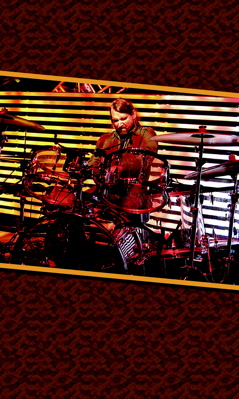 It's a hard thing to lose a loved one, especially when not only is it a close friend, but also the front man and voice of your top-selling band. "It was a very difficult thing to go through," admits Blind Melon drummer Glen Graham. The band had signed to Capitol records in 1991, and by 1993 they'd gone platinum with the help of the MTV video for their smash single "No Rain." But after lead singer Shannon Hoon passed away in 1995, at the height of Blind Melon's career, Glen said he had to stop. In fact, he didn't play music for almost ten years.
"I just lost interest," the drummer admits. "It sounds kind of pathetic, I suppose, but to go from that level…. To realize you were doing exactly what you wanted to do and that things were going well, and then you lose your friend…and everything else…was very difficult."
Glen eventually started playing again after a musician friend persuaded him. Glen explains, "My next door neighbor came over about four years ago and said, "What are you doing? You're doing nothing. Let's do something." So we got together and wrote and recorded some songs and called the project Meek." Advertisement
In 2007, the original members of Blind Melon reunited and introduced new lead singer Travis Warren. In April of '08, the band released For My Friends, their first recording in thirteen years. Was it a risk? Glen says, "AC/DC is the only band I can think of that's successfully pulled off the singer switch, so we'll see. But being back in the band has been fun, and I'm glad we're doing it."

Billy Amendola
This is an excerpt from the article appearing the September 2008 issue of Modern Drummer.