John Dolmayan of System Of A Down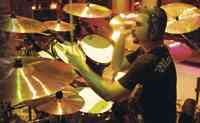 When System Of A Down went on a self-imposed hiatus two years ago, many knew that it wouldn't be the last time the world would hear from these metallic talents. Soon thereafter, two different projects cropped up from within the act–frontman Serj Tankian's solo project, and guitarist/vocalist Daron Malakian's Scars On Broadway. The two didn't have to look far to locate drumming talent, as System drummer John Dolmayan volunteered his services for both projects. "The bottom line," Dolmayan says, "was that these guys are friends of mine, so I completely supported them in their endeavors."
With Tankian, Dolmayan contributed by performing on a few tracks for his solo debut, Elect The Dead (along with drummer Bryan "Brain" Mantia). Dolmayan, who did not become a permanent member of Tankian's band, admits that the recording experience was different from that of a typical SOAD session.
"Tankian recorded everything first, and then I had to go and play to a click track," says Dolmayan. "I don't like doing that, but, you know, it's not my album. I was asked to be a guest, I was honored to do it, I did it as a favor, and that was that." Advertisement
Dolmayan's most recent work is on the debut album by Scars On Broadway, of which he's a full-time member. Wedging rehearsals between time spent on his new online comic book business (Torpedo Comics), Dolmayan often found himself shuttling back and forth between Los Angeles and his Las Vegas residence to hone the parts with Malakian.
"For the recording of the Scars On Broadway album, it was really a painless effort," he says. "Daron would be like, 'Try to play this vibe for this part.' Sometimes if he saw me getting stuck with something, he'd name a band and say, 'Try something in that vein.' We're very intuitive with each other."
Waleed Rashidi