Tony Thaxton from Motion City Soundtrack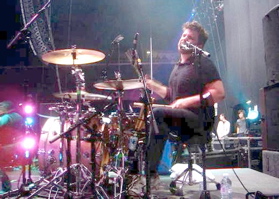 Hi, I'm Tony from MCS, and as I write this blog I'm in Dallas, six shows into the Honda Civic Tour with Panic At The Disco. And so far, so good—well…for the most part. Here's a road story.
We spent our day off on Monday in Amarillo. It was your pretty standard day off–food, drinks, and shopping, nothing too great, nothing too terrible. Our bus call was 4:00 A.M. I stayed up until about 3:00 A.M., and then tossed and turned in my bunk for a while. A little after 4:00, the bus starts up and something is clearly wrong. It's making some funny sounds, and once we get moving, it never gets going very fast at all. We keep pulling off and stopping.
At this point I'm lying in my bunk, just waiting for our tour manager to tell me we're either stuck here because the bus is broken, or we have to use some other method of transportation. Sure enough, 8:00 A.M. rolls around, and there's our tour manager Brian's voice. The bus is officially going to have to be fixed, and we're going to the airport and flying to Tulsa–immediately. The five of us, plus Claudio, my drum tech, quickly gather some of our belongings and head to the airport. Advertisement
We get checked in without much time to spare. Even though we're only flying to Tulsa, we have to go to Dallas first. Did I mention we've hardly slept? I'm dead tired and grumpy at this point. Anyway, we arrive in Dallas for our layover. Grab some food, kill some time, then finally we board. We're all aboard the plane; it's time to go. Then the pilot comes on. Maintenance has found a problem with the plane, so we all have to get off of the plane. Our flight is cancelled.
Now what? We get rescheduled for a flight that's leaving at 7:00 P.M. We're seven hours away from the venue, and we're set to go onstage at 8:30. Not going to work. So now we scramble to get a van rented (and get screwed on refunds for our cancelled flights), and we start driving to Tulsa.
Thank God the show was great–probably my favorite show of the tour so far! I thought I was going to fall asleep onstage, but the crowd was great, so that helped a ton. After the show we got hotels in town–since we were still stuck there for the night. It's very exciting to me that I'm about to go to sleep. Then the hotel informs us that at 8:00 A.M. there will be construction with extremely loud drilling. Are you kidding me?! Thankfully I had some earplugs and was dead tired and fell asleep early. So, I did get some sleep in the end. Advertisement
Side note–in the middle of the night, I was very thirsty. I stumbled in the darkness, found a hotel glass, filled it with some water—. Hours later, Matt wakes up (I'm sharing a room with him), goes to put in his contacts, and yells, "What the—!" It seems he used those hotel glasses to put contact solution and his contacts in, since he didn't have his contact case with him. So—yes, I drank Matt's contact.
Until next time,
Tony
For more on Tony and MCS, please visit www.myspace.com/motioncitysoundtrack.