Seven Antonopoulos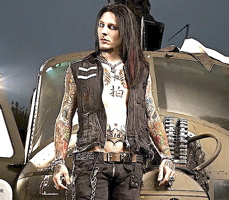 Hello, all in cyberspace. I'm sitting in the front lounge of our bus. We're in a parking lot in front of the Holiday Inn on a day off here in somewhat beautiful Marietta, Ohio. I'm watching CNN with no volume and listening to the new Meshuggah record. (Amazing record by the way.)
We've been out with Filter and Ours for about four days now. It feels so good to be back out on the road again after almost two years off–two years that we've spent getting out of our old record deal, inking a new one with Century Media, parting ways with our old bass player, recruiting bassist Anna K. (Drain STH, Revolting Cocks), writing and recording the new record, Manifesto, with producers John Travis and Ulrich Wild, shooting the video for the album's first single, "Burn You Down," with director David Brodsky, doing press, rehearsing, and basically champing at the bit to get this record out. LOL!
Also, during that time Anna and I did a three-month tour with REVCO/Ministry. The day after we got home I was in a massive car wreck that resulted in six months of back doctors and feeling like I'd been hit in the head with a brick. Needless to say, it's been a long road to this point. Advertisement
So, on to good times—. The shows have been awesome. It's so cool to be out with bands that we're such big fans of. The Filter guys have been really great to us–not to mention how amazing their set list is. Nobody should have so many hits, ha-ha!
On the drum front, I really couldn't be happier with my rig out here. I'm running a black PDP kit with red hardware–two 18×24 kicks, a 12×14 tom, a 16×18 tom, and an 18×20 kick drum on floor tom legs, used as a tom. Also, I've got a 7×14 DW cast steel snare and a 6×12 Edge snare on my left. As far as cymbals go, I've been working really closely with Stankee from Sabian on choosing brass that will complement these huge drums, ha-ha! I've got a really diverse setup: a 24″ HH Mega Bell ride, a 20″ APX Solid crash, a 20″ AA Metal-X crash, a 20″ AAX Metal crash, a 20″ AA Rock crash, a 20″ Paragon crash, a 22″ AA Metal-X crash with a 9″ Alu Bell on top, two 22″ AA Chinas, a 12″ Ice Bell, and a 12″ Chopper.
As always, I'm using Vic Firth American Classic rock sticks with wood tips. It sounds cliché, but using gear you really enjoy playing makes all the difference in the world.
I want to tell ya'll that Manifesto will drop on July 8, and that you can pre-order it through our myspace page. This is really cool, because with your order you'll get a T-shirt and a pass that will get you into one of our shows, plus a meet & greet with the band in your area. Be sure to check out our tour dates as well as the trailer for the video "Burn You Down," which will debut on MTV 2 in a few weeks. Advertisement
Well, my drum tech, Dyll, just got back from Walmart. I guess we're gonna watch Fight Club for the 97th time, ha-ha! I'd like to thank everyone at MD, and I hope to see ya'll out here on tour soon.
Best,
Seven Antonopoulos
For more on Seven, or to pre-order Opiate For The Masses' new album, Manifesto, go to www.myspace.com/opiateforthemasses.