Drummer Blog: Karl Latham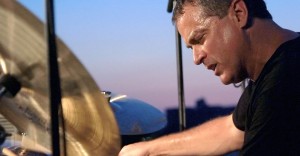 Hello to all the drummers, modern and otherwise!
This has been an interesting year for me so far, with lots of cool stuff going on. It started with a NAMM trip and great hangs with Freddy Studer, Ryan Kreiger, Gerry Brown, Kim Plainfield, Sandy Gennaro, Rich Mangicaro, Larry Lelli, Tony Lewis, Ivan Hampden, Dena Taurellio, and so many other beautiful players.
The cool digs continued with a tour in February with the great pianist/composer from Freiburg, Germany, Johannes Mössinger, with two great German musicians, bassist Rudi Engle (he tours with drum legend Jimmy Cobb) and killing young trumpeter Thomas Siffling. A highlight of the trip was hanging with classical percussionists Jochen Shorer and Franz Lang from The SWR. Growing up playing classical snare drum, man it was inspiring to hear these guys play and hear their interpretations. I look forward to many hangs in the future. I've been working with Johannes since 2002; we've done a couple dozen tours together, and I'm on five of his CDs to date. We play with some great musicians, such as the unbelievably creative bassist Kermit Driscoll, as well as saxophonists Joe Lovano, Bob Malach, and Don Braden.
In April we also did some recording with Seamus Blake and Boris Kozlov, both of whom are BAD boyz. Boris is a drummer's dream, which I guess is why so many bad cats like Dafnis Preito, Jeff "Tain" Watts, Ignacio Berroa, and Bobby Sanabria make him a first call. Advertisement
Stateside I've been busy with lots happening, such as gigging regularly with The John Lee Quartet with young guitarist Yotam Silberstein, pianist Roy Assaf, Bob DeVos, and many others at the current undiscovered jazz hot spot in South Orange, New Jersey, Papillion 25. For the last few months many jazz legends have appeared there on Thursdays. Last week the evening's house band, Dave Gibson, Bob DeVos, John Lee, and I were joined by trumpeters Roy Hargrove and Claudio Roditi, among a host of others. Killer drummer Vince Ector took pity when he heard how many great horn players showed (envisioning many fast choruses) and sat in as well. In March we recorded a CD at John's studio with his quartet featuring Tomoko Ohno and Andres Boiarsky.
A really cool recording project I played on called Big Fun(K!) with Don Braden, Nick Rolfe, and Gary Foote is in the final mixing stages. This is a nasty project with Gary playing Mutron bass and Nick doing some killer old-school Rhodes and synth sounds.
When my good bud Mark Egan returns from touring, we plan to mix another cool live CD project we recorded John Hart called Unit1. This summer I'll be in Europe with Johannes Mössinger and playing around the New York area with my own group Karl Latham Group, as well as freelancing with The Shirelles, The Dalton Gang, The John Lee Group, Don Braden, Unit1, and a bunch of other cool projects. Andy Snitzer and Tom Gioia of Visionary Music seem to have some things on the plate to keep me busy, with some cool session work too. Advertisement
Before I go I want to mention the gear I use. On most gigs I play Yamaha Maple Custom drums (thank you Joe, Jordan, Prudence); on jazz gigs I play Paiste Traditionals and Dark Energy cymbals and Twenty's on everything else (huge thanks to Andrew, Danny, Wayne, Tim, and Freddy); and I use VF Drumsticks (thanks to Marco and Ben) and Evans drumheads (thanks to my bud Steve L).
For anyone interested, most dates are on my Web site. I'm not sure how the tan comes along this year!
For more on Karl Latham, go to www.karllatham.com or www.myspace.com/karllatham.