David Uosikkinen: Gearing Up For The Road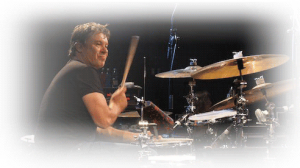 Get out the Slim Fast, I'm going out on the road. Every time I get ready to do a tour with The Hooters, I think it may be my last. I've been on this horse for a long time, partner, nearly thirty years. Our new guy, Fran Smith Jr., joined the band twenty years ago. I'll miss it, when we finally put a cork in it. But for now I work hard to get myself in shape physically and mentally for the grind. This wasn't always the case. I didn't put much thought into how I took care of myself on tour when we first started out. Mickey Mantle once said, "If I knew I was going to live this long, I would have taken better care of myself." When I toured to support our first major release in 1985, it was my license to go days without sleep. When "And We Danced," "All you Zombies," and "Day By Day" became hits, things got worse for me personally because I wasn't taking care of myself. That kind of success went to my head, and I felt invincible. It's not something I recommend to young drummers, but it was what it was. I had a lot to learn about life and living it.
I have made a 180° shift since my early days of touring. First of all, I'm older and my body doesn't bounce back like it used to. And this genius figured out that sleep is a good thing. I try to eat right and timely. I don't eat too close to show time. We usually play a two and a half—hour hour show. More times than not there's some sort of meet & greet afterward, then I hit the bus. I eat something light, and I don't drink alcohol anymore so I drink something else. I'm usually in my bunk by midnight. Seems pretty boring, huh?
Making a career in music is a heavy commitment. Here's my soapbox moment for guys just getting started. Learn something about how things work in the music world. People's tastes change; one day you're at the top of the heap–if you're lucky–and the next you're Chicken Of The Sea. The Hooters have a solid fan base in parts of Europe, Germany especially. So we get to tour. A dubious luxury for which I'm truly grateful. Advertisement
I play DW drums. John Good, the maestro of the drum shell, recommended that I try using their new 23″ bass drum. I loved the sound of it right away. You could feel it as much as hear it. I'm bringing out a batch of awesome-sounding Zildjian cymbals. Using new and different gear has always made playing fun for me. Sometimes I have to be reminded to accept the good–and playing music is one of those things that is good. Better than good, it's great. So the band and crew will circle our wagons and hit the road again for yet another round of the music brotherhood. If our paths cross, come say hello.
Dave