Michael Mignano of The Canon Logic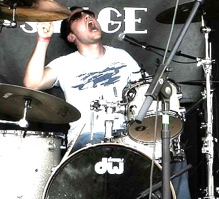 Greetings, MD readers. My name is Michael Mignano, and I play drums for the Brooklyn-based band The Canon Logic. Since joining the band about two years ago, I've had some killer experiences, like playing the Vans Warped Tour, this year's South By Southwest festival in Austin, Texas, and a ton of other great shows for our amazing fans. We're getting ready to release a new EP, The White Balloon, in May, followed by a full-length in the summer. I couldn't be more excited.
I would "pimp my wares" here, but like most New York City drummers, I usually end up playing on backline kits and other drummers' sets. Of my own gear that I do get to use at most shows, I play Vic Firth sticks, Zildjian cymbals, a DW 5000 pedal, and a Roc-N-Soc throne (my favorite piece of gear). When I'm lucky enough to use my own shells, I play a Pearl maple kit.
When I was trying to think of what to write for this blog, I figured, Why not use it to share a drum tip for any beginners who might be reading. I learned this from the one and only Dom Famularo, who wrote a post on this very blog about a month ago. (Scroll down to check it out.) Dom was kind enough to allow me to sit in on a private lesson he was giving about a year and a half ago. If you're ever lucky enough to cross paths with Mr. Famularo, I'd highly recommend speaking with him–he's a drumming legend and a fantastic instructor. At the time, he was building an amazing, state-of-the-art drum studio outside of his home on Long Island. (Is it done yet, Dom?) Advertisement
Anyway, the tip has to do with throne positioning. Many drummers that I speak to totally under-value careful throne positioning. I was guilty of this as well before I heard the tip. The next time you're practicing, experiment carefully with the distance between your kick drum and your throne. Find a good distance that allows you to feel balanced, but that also gives you leverage to invoke power upon your kick pedal. Equally important, experiment with your throne height. Different drummers will tell you different heights to position your throne at–but everyone's different, so you have to find your own comfortable setup. I personally like it so that my legs create an angle slightly greater than 90°.
The fact is, the position of your throne determines everything about your playing: your comfort, relaxation, balance, and the strength of your leg on the kick pedal. Get a height that allows you to play heel-up and heel-down. When you've discovered the positions that give you the most power, balance, and comfort, measure and remember them. Then at your shows, measure out the right distance/height before you play. When I don't have a tape measure handy, I measure it out in stick lengths. Since adopting this technique and really sticking to it, I've felt more comfortable at the kit than I ever have in my life. And on the gigs when I don't get the chance to do this (because I've been rushed onto the stage for some reason), my whole set feels out of whack.
Thank you all for reading this, and have a great summer. If you'd like to talk drums or anything else music, feel free to email me at mmignano@gmail.com. And check out The Canon Logic at www.myspace.com/thecanonlogic. Advertisement
Photo courtesy James Hamilton Photography.