Alejandro Vallejo of Vallejo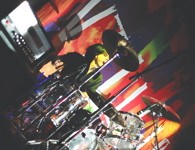 Hello, fellow skin bashers and drumming maniacs! My name is Alejandro "Alex" Vallejo, and I play drums in the Austin, Texas—based Latin rock band Vallejo. I've been playing in this band with my two brothers, AJ and Omar, since high school, and we just released our new album, Thicker Than Water. I'm proud to say that Vallejo has been rocking America for over ten years now, and we're still going strong thanks to our hardheaded refusal to never give up, despite the ups and downs of a very exciting but unforgiving music business. Our sound is a melting pot of '70s & '80s—style rock with a Latin twist in the vein of Santana, but–respectfully–with a little more balls.
In the vein of the classic '70s San Francisco Latin rock scene, our band has always included a percussionist to add a little Latin grease to the swaggering rock grooves we've always fancied from bands like Led Zeppelin, Van Halen, and Aerosmith. I've had the extreme pleasure of performing with some really great percussionists over the years, like Michael Panepento, Steve Ramos, Diego Simmons, Andres Delgado, and our current percussionist, Jeff Hartsough. Jeff also works closely with the Percussive Arts Society, and was A&R at Pro-Mark for many years. Talk about a guy who knows drums and drummers–personally! We do an improv drum battle in our show every night, and we just have a blast playing drums and doing what we can to excite the crowd. Being able to make people's butts go one way and their feet another is truly an amazing power that we both strive for every time we hit the stage. It's a beautiful thing that I never take for granted.
It's also great to read through all of these blogs and see other drummers doing something to educate young drummers. I truly think there's a little bit of this "natural teaching mentality" in all drummers, and I have personally dedicated a lot of my time giving back to music what it has given to me. I've been playing drums for twenty years now, and I know the beautiful experiences being a drummer has brought me over the years. I currently work with a non-profit music program in Austin called Grounded In Music, which gives underprivileged kids an alternative to getting into trouble by showing them the fulfilling and creative advantages of being an honest working musician. Music saved my life when I was a teenager, and I feel other kids should have the opportunity to know that there is something better out there than getting into drugs or being in a gang. Why not learn how to play music, join a band, and possibly make a decent and exciting living out of it? It's been a great ride for me so far, and I hope to keep inspiring the next generation of musicians like my musical idols did for me. Thanks, guys! Advertisement
For a preview of our band's music, please take a minute to go to our sites www.vallejomusic.com or www.myspace.com/vallejo. I also have my own drum site at www.alejandrovallejo.com, which shows some other albums and projects I've played on. Hope you enjoy the music, and take it from me: Never ever give up on anything–EVER.
Alejandro "Alex" Vallejo