Ray Blanco of The Bangkok Five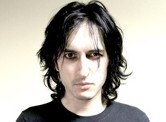 I'm alone. I'm still relaxing in my bed watching my LA Kings hockey game from last night. Yeah, they're in last place, with only a few games left in the season, but what can you do? We had rehearsal last night, getting ready for our upcoming warm-up weekend warrior run. Bus call is tonight at 8:00 p.m., and we'll be departing for Las Vegas, traveling to San Diego, and then coming back home to Los Angeles.
A few months ago, while we were recording our new album (May 13 release), some phone calls buzzed between the members of my motorcycle gang, the really REALLY sharp knives. It's not often that we are all in town at the same time, seeing as how other drummers in trRsk's include Jose Pasillas (Incubus) and Chris Hesse (Hoobastank), as well as many other musicians, friends, and crew guys. But this ride came to a sudden halt when somewhere between Fillmore and the Grapevine I flew out of a turn into a slide, crashing and burning only feet from sure death off the side of a 200-foot cliff into the unknown. My bike was beat up; my body was bruised and bloody. Did I stop riding? Well, much like everything else we know to be harmful to us, in pain, I got back on my horse and rode to the studio in Echo Park to record the drum tracks (to tape) to the album's title track, "We Love What Kills Us." And how true it is—.
The Bangkok Five is made up of five crazy and über-talented individuals. We've spent our time making music, touring with amazing bands (Papa Roach, Buckcherry, The Cult, etc.), and making friends and fans everywhere. We were once signed to a major label called Universal, and they promised us the world once we created a "spark." After a successful radio push, including #1's at many stations, HUGE tours, and us selling every single copy of the record we were given, we quickly realized we were in it to win it—alone. Not letting anyone hold us back, we were able to regain ownership of Who's Gonna Take Us Alive? and move onward, securing a more DIY distribution deal with the amazing and talented folk at Long Live Crime. As we enter the next chapter of our careers, we're excited to bring you more music and an amazing live show. Although this band consumes each of us, we realize that this is what we were born to do, and nothing short of death is going to prevent us from being heard. Advertisement
Growing up, my influences ranged from John Bonham to Sugarfoot. I was exposed to all musical flavors, from Black Sabbath and Black Flag to The Beach Boys and The Strokes. I've always been very open-minded and have tried to feel where each artist was coming from. I was introduced to a very important genre of music called hardcore. From Snapcase to Refused, Converge to Strife, I discovered the world of how a live show is the most important aspect of your music, and my live performance is a reflection of being a part of such an amazing scene. Let no rock be unturned. Where there was a power outlet, I played a show. In some cases, a generator would power the show, as we would stop for no reason.
I'm proud to bring that ethic to The Bangkok Five, and although we are a real serious and professional rock 'n' roll band, we got to where we are by continually working our little tails off—we live and breathe music. The reality of this whole rock 'n' roll fantasy is that it's one of the most difficult career paths anyone could ever embark on. No one will ever want to make your career a success as badly as you do, and you always have to be working. The end result: I get to wake up every morning and write music and make beats! I like to think we know what we're doing, and that what we do is great, but that's for you to decide. If you want to talk drums, beats, music, etc., feel free to contact me through myspace.com/raydrums. I've been fortunate to become friends with some of my biggest influences, and I want to offer that back to the world. We are ALL fighting a fight; we might as well fight it together.
Thanks for reading, and I hope you enjoy my music and my beats. I also hope to see you all at a show, as we will be on tour for the next eighteen to twenty-four months in support of We Love What Kills Us. Advertisement
Ray Blanco proudly plays and endorses DW hardware, Zildjian cymbals, Pro-Mark drumsticks, Remo heads, and Rocket shells. For tour dates and other information, go to www.TheBangkokFive.com, www.myspace.com/TheBangkokFive, or www.myspace.com/raydrums.
Photo by Derek Dale.