Jim Bonfanti of The Raspberries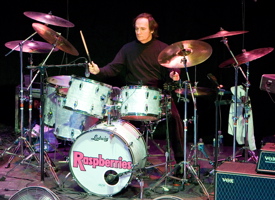 Hello, MD readers. I've been trying to write this blog for quite some time now, and here it is. My name is Jim Bonfanti, and I'm the drummer and one of the founding members of the power-pop group The Raspberries. We were originally together during the early '70s, and have re-formed in the 21st century. We did a run of reunion shows between November 2004 and October 2005. It was a small tour of ten shows in eight cities, but it had some amazing turns for the band. We also did a string of shows at the end of 2007. I enjoy touring more now than I did in the '70s because I appreciate the opportunity to play again and connect with our fans.
I'm happy to have this opportunity to be covered in Modern Drummer, even if it's through a blog. It's great that fans and other drummers will get to know a little something about me.
I'm currently using a vintage set of Ludwig drums that have a cool story attached to them. I've had many sets of Ludwig drums (it's the only brand I've ever used in my career), but as time went on I started to migrate to larger drums. In 1972 I special-ordered a six-piece set from Ludwig that was not in any of their catalogs. I picked each size and had them put it together for me. I went with a 61/2×14 snare, 14″ and 15″ rack toms, and 16″ and 18″ floors. I also had them make the bass drum a 24″. I chose a chrome laminate over wood for the color that looked great on stage. I used that kit on our third album, Side 3. Advertisement
I loved that kit, but in 1977 I reached a period in my life that didn't allow room for music, so I sold the drums to a local drummer. Fast-forward to 1998, and I found myself wondering if I could buy them back. So I went in search of my old kit. Amazingly, the fellow still had them and was still in the area. He gave them back to me and I had them totally restored and changed the color to white marine pearl, and that's the kit I'm using today. I still love the way it sounds.
I have an unorthodox playing style in that I'm left-handed and right-footed. I set up the kit right-handed but play lefty on top. I guess it has become a trademark of sorts for me, but it presents some challenges as well. I find myself searching out other lefties.
I'm having a blast touring again. I have an appreciation I didn't have before, knowing that these things can end in a blink. But for now we can still go out and play and really have fun.
I'm very proud of our new recording, which is our first in thirty-plus years. Our Live On Sunset Strip CD/DVD was released last July 31. Grammy-nominated engineer Mark Linett co-produced with our very own Eric Carmen. And it's the first recording that I can really hear the drums on. Side 3 isn't too bad, but the sound is much improved on Live On Sunset Strip. It's funny how on the two recordings I like, I'm using the same kit. The DVD contains five video tracks, but the full show is available on our "Special Edition" version. For details, go to www.raspberriesonline.com. Advertisement
First blog in the books!
Jim Bonfanti
For more on Jim and The Raspberries, go to www.myspace.com/officialraspberries.
Photo by Gene Taylor.