Han Bennink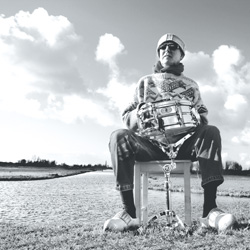 Known to solo with anything that will instantly augment his kit, from clogs to a fire alarm, Han Bennink is Holland's most radical drumming export. By turns profoundly traditional and wildly revolutionary, Bennink has worked with everyone from Cecil Taylor to Derek Bailey, and he remains a central figure in Europe's free improvisation scene. But while he's known for his duet, group, and big band work, Bennink's solo spiels are truly something to behold.
"Playing a drum solo is like growing mushrooms," Bennink says. "It's very natural. You access your backpack with all your musical information. But you are the artist and you ought to add something new to it. That's why you recognize Elvin Jones, Buddy Rich, and Billy Higgins. They had their own language. It's like diving into a swimming pool to reach the other side."
Bennink is scheduled to tour the US this spring playing both solo and group concerts, and he recently recorded with the Ammu Ensemble, pianist Achim Kaufmann, and on The Blueprint Project's People I Like. Often, Bennink is likely to show up with only a snare drum. Advertisement
"I used to have a whole car full of tablas, timpani, and drumset," Bennink recalls. "Then I reduced. Often in Amsterdam I go with just a snare drum and brushes. Nobody gets angry with you that way because you don't play too loud. Playing snare drum is like Zen. You only have a snare drum, like a conga player only has a conga. European jazz fans complained about the bass drum–totally ridiculous. So I went back to nothing. I make the music from there rather than have all the solutions in front of me. The only solution you have is yourself, and no more than that."
Currently practicing double-stroke rolls somewhere on a pillow or cigar box, Bennink is the subject of an upcoming DVD by filmmaker Jellie Dekker and an authorized biography by Erik van den Berg. For more info on the drummer, go to www.hanbennink.com.
Ken Micallef