Xavier Muriel of Buckcherry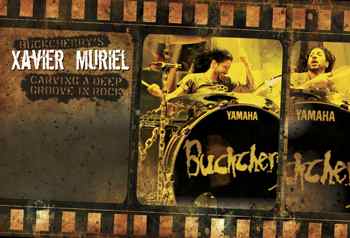 Hi, my name is Xavier Muriel. I play drums for the Southern California—based rock band Buckcherry. Like most of you who read Modern Drummer, I share a passion for drums and drumming.
People often ask me why I chose drums, and I always tell them that the drums chose me. As far back as I can remember I've loved the primal-ness and sheer power of drums. I grew up in a Latin house where at any point of the day or night you were around all kinds of music. Latin, jazz, folk, and country & western were always prominent in my house, but it was my older brother Fernando who introduced me to rock 'n' roll, and from that point on it was like a drug–I was hooked. Led Zeppelin, AC/DC, ZZ Top, Foghat, and countless others would be the building blocks of the drummer I am today.
Like many other drummers, I started in small garage bands, honing my trade with the hopes of one day reaching what I thought would be the pinnacle of success–record label contract, videos, touring, etc. Having toured for twenty-five months on our latest release, 15, I can honestly say that some of it was exactly what I thought it would be, and some of it wasn't even close. It takes a special type of person to do this for a living, but I wouldn't trade it for the world. The good outweighs the bad, but you really have to believe and do whatever it takes. Nothing else will do.
Well, it's January 2008, and we're hard at work on the next record, hopefully to be out by early spring with a huge tour to follow. So I leave you, reader, with this: Reach for the stars and believe in yourself, and all good things will come your way. Until next time. Advertisement
Best,
Xavier