Alex Van Halen: Bashing and Crashing In the Here and Now
by Ken Micallef
Practically joined at the hip to his brother Eddie, nephew Wolfgang, and David Lee Roth, Alex Van Halen has finally returned to the road with the band that bears his name. It's been four years since the last Van Halen tour, but in their time the band has traveled a million miles.
Van Halen has always been more of a pure rock 'n' roll act than anything else. Mega-hits like "Jump," "Dance The Night Away," "Panama," "Runnin' With The Devil," "Pretty Woman," and "Hot For Teacher" are hardcore party anthems for a generation that ignored disco and punk. For those loyal fans, Van Halen constituted a rite of passage, a fun-loving band that partied as hard as they rocked–and their ability to rock was never in question.
As Eddie Van Halen strangled his guitar through all manner of hammering, slashing, and maniacal speedball eruptions, brother Alex laid down a bombastic groove of titanic proportions, typically on a colossal drumset fortified by double bass drums, Octobans, and percussion. And while he often cited Ginger Baker and Buddy Rich as seminal influences, Alex's drumming was always larger than life, thrusting through Van Halen's music with the energy of an angry tank, matching Eddie's blitzkrieg style with equally assaultive note choices. Advertisement
Alex Van Halen never cited John Bonham as a pure influence, but the sound was always there. Perhaps more so than any drummer from the early 1980s to the present, Alex Van Halen inherited the Bonham mantle. Of course, Alex's double bass drum machinations were purely of his own design, as were his typically mammoth drumsets. But the spirit of Van Halen's drum work was, like Bonham, built from the ground up, with the deeply entrenched ability (his dad was a big band musician) to swing a rock groove like a tornado tearing down a city street.
Now reunited on the road with original lead singer David Lee Roth, and playing their quintessential hits for the first time in twenty-two years, Van Halen has restored a sense of what real rock 'n' roll can be when played by a band of oversized personalities.
"We grew up together," Alex says from a New York hotel room. "Dave, Eddie, and I were the main architects of the band. The bonds you make when you're younger…well…there's a different kind of dynamic in those relationships. The creative thing was always a tension between the three of us. It's fortunately still there and hasn't become stagnant. That's what keeps it alive." Advertisement
What keeps it alive might also be what tears it apart. Rumors flew hot and heavy around Van Halen's 2007 tour, and with Roth back and original bassist Michael Anthony gone, the group dynamic was said to be in a convulsive state. But calling their 2007 tour "A moment in time and space all in one place," Alex Van Halen hit the stage of the Meadowlands, New Jersey arena as though it was still 1984.
Van Halen is not a grizzled tribute act, but a hard-won touring band whose music still sounds vital and fresh. Alex will allude to the inevitability of a new record, but he lives in the here and now. Consequently the drum solo that follows "Pretty Woman" is not some nostalgic flashback, but a nearly freeform improv epic that shows off both his bass drum technique and his organizational skills.
Alex Van Halen is a superior drummer today to the one who played the galloping double bass drum intro to "Hot For Teacher" (his kicks are cleaner), or the pile driving flam/bass drum rolls of The Who cover "Magic Bus" (his stickings are higher, his technique more supple). His wrists are like pistons, his legs like bionic battering rams. Advertisement
"I read some old Buddy Rich interviews," Alex says, in reply to a question about technique. "When asked, 'Do you warm up before you play?' Buddy said, 'Yes, I take my hands out of my pockets.' No matter how questions get answered, it boils down to this essence: When you make music you try to be as in the moment as possible. Of course, you rehearse. But there's enough room to make every night different."
Though rumors about Eddie's health and temperament abound, when Van Halen took the Meadowlands stage, all thoughts of former bass players and past problems faded away. And at the center of the storm, in touch with the past but living in the present, Alex showed maturity mixed with equal parts good humor and unabashed, over-the-top exhilaration.
Drumming as perfect therapy and spiritual release in the here and now? Alex Van Halen's got it locked.
MD: It's been a long while since the last Van Halen tour. What did you do to get back in road shape?
Alex: Ed and I play every day. So I didn't have to get back in shape. Ed has the 5150 Studios on his property in Studio City; we have a routine. It's the one forced discipline that we have. We play once a day, every day. We play for a couple of hours, sometimes less, sometimes more. Sometimes things evolve. Ed has ideas, and often something I'm playing will trigger an idea. But there's no goal in mind. It's not, "Let's pretend to be creative and make a record." Advertisement
MD: What's your setup at the studio? How many bass drums?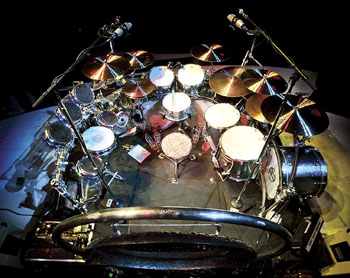 Alex: The only reason I use two bass drums at all is because my right foot just isn't fast enough for some of the stuff I like to do, especially some of the shuffles. When it comes down to what you really, really need when you're playing, you use your hi-hat, snare, ride, and kick drum. Honestly, I think the more gear you have, the less creative you'll be.
Normally in the studio I use a snare, a kick, a hi-hat, and a cymbal–and maybe one tom. When you're trying to be creative, I've found that a smaller setup–and varying it up–helps. Otherwise you fall into the same old patterns. And you can be distracted by too much stuff.
MD: Is this a strong band or a fragile band? We hear stories about Eddie's health and temperament on the road, and his relationship with David Lee Roth….
Alex: None of it is true.
MD: So everything is solid and straight-ahead?
Alex: That's not true either. I preface everything by saying that we were in high school when we first got together. You put Ed, Dave, and me in a room and one of us is going to come out bloody. And that's what makes it great. That element is still there. Music is an emotional thing. I'm not saying you need to be overbearing or disrespectful. But I am saying that our nature is such that we tend to overlap in how we get things done. Advertisement
Pick up the March 2008 issue of Modern Drummer to read the rest of the interview with Alex Van Halen.