Jason Bonham
By Billy Amendola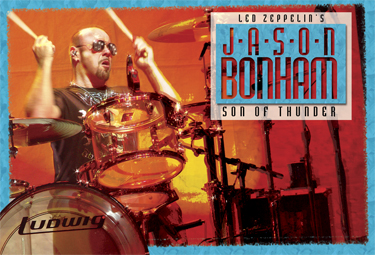 The rumors started spreading months before the official press release went out: "Led Zeppelin is getting back together and they're going on tour." MD, like everyone else, was getting excited at the possibility. Was it true? We made calls and sent emails back and forth. And we tried to speak with Jason Bonham–son of famed Zep drummer John Bonham and likely heir to his throne–to find out the scoop. But frankly, it wasn't so easy, since every writer and magazine in the world was thinking the same thing.
After a few attempts, we finally hooked up with Jason. The plan to have him on the cover of MD asap to announce the reunion went into action. Unfortunately, jazz icon Max Roach passed away, and that plan had to change so MD could honor the legend in a timely, respectful way.
But details have a way of working themselves out, and here we are, getting the inside skinny on the most anticipated rock reunion–certainly of this young century, and perhaps of the past twenty years. Advertisement
On December 10, all three surviving members of Led Zeppelin–Robert Plant, Jimmy Page, and John Paul Jones–were joined by Jason Bonham, a respected journeyman drummer in his own right, to play a tribute concert for Atlantic Records founder Ahmet Ertegun. As an indicator of just how huge an event this was, 90,000,000 people (!) tried to get tickets for a show at a concert hall that only holds 17,000.
Jason Bonham was born on July 15, 1966, to parents Pat Phillips and John Henry Bonham. Most rock fans are familiar with the story of Jason's father and the gargantuan impact he made on music and on drumming. But many are unfamiliar with Jason's journey to rock stardom, from his early fascination with drums and dirtbikes, to his not-always-easy career in the music business.
By following his passion for the drums, Jason would forever be burdened with living up to his dad's legacy as "the greatest rock drummer ever." Of course, having a famous drummer for a father has had certain advantages. But the Bonham name also brought on more pressure than any other drummer would ever have to live up to. Advertisement
Jason's career certainly had its ups and downs, but the passion he had for being the best drummer he could be would always burn in his heart. At seventeen he formed his first band, Air Race, and later joined Virginia Wolf (whose record was produced by Queen drummer Roger Taylor). In 1988, he joined Jimmy Page for his Outrider record and tour, and that same year he played for the first time as an "official" member of Led Zeppelin when the band reunited for Atlantic Records' Fortieth Anniversary concert at Madison Square Garden.
Jason's first solo album, The Disregard Of Timekeeping, was released in 1989 to critical acclaim. After his second solo album, Mad Hatter, Bonham concentrated on session work, including supporting Bad Co. singer Paul Rodgers on the Grammy-winning Muddy Water Blues: A Tribute To Muddy Waters. In 1994, Jason appeared at Woodstock II with Slash and Paul Rodgers. In 1995, the drummer represented his father when Led Zeppelin was inducted into the Rock & Roll Hall Of Fame, where he sat in for an unrehearsed reunion that featured Aerosmith's Joe Perry and Steven Tyler.
Soon after that, Jason put together another solo project, this time focusing on the songs of Led Zeppelin, titled In The Name Of My Father, with proceeds from the album going to charity. From 1999 to 2003, Jason drummed for Healing Sixes. In 2000, he appeared in the film Rock Star. And in 2006, Jason breifly became a TV star on VH1's reality show Supergroup. Advertisement
Following an album and tour with his aunt Debbie, the younger sister of his dad, Jason joined the classic hard rock group UFO. Also in 2006, he recorded with guitar slinger Joe Bonamassa. And for the past few years, he's been touring constantly with Foreigner. Without question, Jason has had an impressive career.
So how is Jason preparing to play with Zeppelin–and how will that first show go? The following interview took place–by coincidence–on a very special day in late September.
MD: As you know, today is the twenty-seventh anniversary of your father's passing.
Jason: Yeah, I know. I didn't actually think about it until this morning, when I got up and said to my kids as they were squabbling on their way out of the door for school, "You know what day today is"? And they said, "Of course, it's Tuesday." [laughs] It's good we can talk about it all today. And with all the things that have been going on, it's pretty special.
MD: Speaking of which, when did you start rehearsals for the Zeppelin show?
Jason: We started back in June. Basically we got together to see if we were going to do something, to see how it would play out and how it would sound–and whether we would all get along. Our first get-together lasted three days, which was mainly two days of playing and one day of planning. And then I heard nothing from them for about a month and a half. Advertisement
MD: And I'm sure that left you thinking: Did they like it or not?
Jason: Exactly! I'm like, were they kidding me in the room at the time when they were saying it was great? I thought, whatever it is, it's something they have to talk together about and be comfortable with. That's the main thing. This is not being done for money. It's purely because they wanted to play together again.
MD: So how was it playing with them?
Jason: It was a very emotional and amazing experience. I walked in a boy, but they made me feel like a man when I walked out. I felt all grown up. I felt taller…it felt like I could speak on the same terms and I didn't feel like that young sweet boy anymore.
MD: So you felt you held your own.
Jason: Yes, and they were all very encouraging. You have to remember, for the past fifteen, twenty years, people have always asked, "When are you guys going to get back together"? So to finally have it happen, it was a bit overwhelming at first, because I had kind of put it to rest in my mind. "This is not going to happen, move on." Of course, as soon as I moved on, it came back to bite me. That was actually a good thing, because once I stopped expecting that seat to be mine, instead of being cocky, I actually started to doubt myself, which all led to me being a different human being and a lot more honest with myself. It made me go back and really listen, instead of assuming that I knew it all and that I'm the rightful heir to that drum seat. Nonsense! You get the gig if you can play it. I had a foot in the door, but there's also more pressure on me than there might be on another drummer. Advertisement
Pick up the February 2008 issue of Modern Drummer to read the full interview with Jason Bonham.