Ches Smith of Xiu Xiu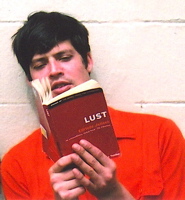 Although I had recorded with Xiu Xiu sporadically over the years, I didn't join the band full-time until the summer of 2006. Drum machines and sequencers had been staples of the band's sound. I was sort of surprised when friend and band founder Jamie Stewart mentioned that he didn't want any drum machines on the new record, Women As Lovers. I didn't realize that is different from no "programming of acoustic drums."
The "take" with this band is never sacred; you never know if the whole thing is going to be used, or just bits and pieces. If you are familiar with the adage "fix it in the mix," saying "compose it in the mix" is more applicable to Xiu Xiu. I wanted to bend to this way of working, so I consciously detached myself from the parts I had put down in tracking. What we got on tape by that point was just the beginning.
I was excited to find that I was as interested in composing a drum track by assembling bits and pieces of widely varied sounds, as I was used to hearing a complete drumset take that felt good the whole way through. It gave me an idea for the next record: to string together sound collages composed of percussion events, drum grooves, and electronic sounds and learn them in real time on a drum/percussion setup–then record the whole thing in a complete take and see how THAT feels. Advertisement
Greg Saunier (of the band Deerhoof) was acting as producer and, at times, engineer. This was a pleasure. The way he hears music is completely unique. He is a fan of music and of drums, and a great friend.
As I get ready for the next wave of touring on the heels of the release of Women As Lovers, I have been keeping busy with other projects. Last week I had the opportunity to share a bill with legendary drummer Milford Graves in Milan, Italy. He sat and watched the set of The Secret Chiefs 3, the band I was playing with at the John Zorn—curated festival. I was intimidated by this. He, along with other "free jazz" pioneer Sunny Murray, helped create a multidirectional way of playing in the early 1960s. Having such an innovator listen to what I was playing put my playing into perspective. It is like placing yourself next to the creation of history.
Milford was extremely gracious. I was relieved by this, and we sat and listened to a beautiful string quartet piece while we waited for what I thought of as the main event, his duo performance with John Zorn. Advertisement
I can't really describe what happened next. The two started playing with such incredible intensity. I was completely unprepared to deal with what was happening. About a minute had passed before I realized I was crying. And I hadn't breathed for a minute or two. After I caught my breath I noticed the technical innovations happening in the drumming: dead-stroke rolls, bending the pitches of the drums with elbows and sticks, striking the cymbals and drums simultaneously with the same stick, incredible ride cymbal facility, and melodic use of two bass drums and concert toms.
All of the above was in the service of pure propulsion in a greatly expanded sonic world. My one regret was that I didn't adequately let Milford know what an impact the performance had on me. I did tell him that it completely blew me away, and of course he just laughed it off.
I encourage anybody to check out recordings Milford is on: Paul Bley's Barrage (ESP), Milford Graves Percussion Ensemble (ESP), Grand Unification and Stories (also led by Graves, on Tzadik). There are also performances on YouTube. Advertisement