Brian Kelley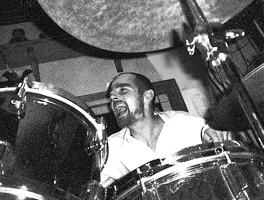 Hello, my name is Brian Kelley, and this is my first blog for Modern Drummer. It's an honor to be asked to contribute.
I live in the Boston area and make my living as a musician teaching drums, playing gigs both as a leader and as a sideman, composing, recording, and producing. For my first MD blog, I'd like to talk about my ten favorite recordings of all time. Jim Franklin, a great friend and fellow musician, and I have had much fun comparing top-ten lists over the years.
It can be a difficult task putting together a top-ten list, as most musicians have extraordinarily large record collections. But I feel that every musician has a top-ten list, and it can define who you are as a musician. Many factors go into compiling such a list. Personal taste, production, group performance, individual performance, great solos, well-written tunes, killing riffs, tasty album artwork, hip liner notes–the list goes on and on.
In no particular order, here s my top-ten favorite records.
The Who: Who's Next (Keith Moon)
McCoy Tyner: The Real McCoy (Elvin Jones)
Miles Davis: My Funny Valentine (Tony Williams)
Donny Hathaway: Live (Fred White)
Ray Charles: The Genius Hits The Road (Milt Turner, Teagle Fleming, Mel Lewis, William Peeples)
Led Zeppelin: Physical Graffiti (John Bonham)
Herbie Hancock & The Headhunters: Flood (Mike Clark)
Tower Of Power: Tower Of Power (David Garibaldi)
James Brown: Love Power Peace: Live At The Olympia, Paris, 1971 (Jabo Starks)
Jaco Patorius Big Band: Twins 1 & 2–Live In Japan 1982 (Peter Erskine) Advertisement
Feel free to drop by www.briankelleymusic.com to say hello, and tell me your top-ten list. Happy holidays to you all!
Brian Kelley