Antonio Sanchez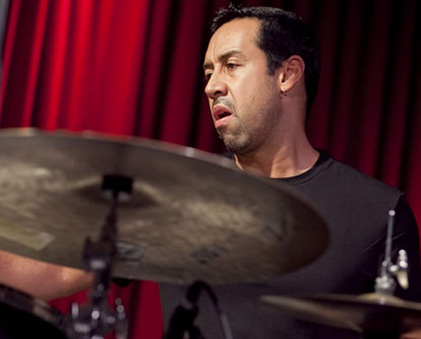 Best known for his multi-timbral, multi-textural, orchestral jazz drumming with The Pat Metheny Group, Antonio Sanchez spreads his solo sticks wide for his debut as a leader, Migration. A whirling dervish of a record with guest spots (and material) from Metheny and Chick Corea, Migration relays an open-ended, hard-burn approach, start to finish.
"I didn't want people to say this is a drummer's album," Sanchez explains. "I wanted it to be something that could be from any instrumentalist. I thought in terms of music, not how many solos I got and if I blew enough chops or not. I wanted the music to be very melodic and accessible and with a lot of really good interplay. The new tunes that Chick and Pat wrote made it come together nicely; they're not my tunes but conceptually they're in the same realm."
Sanchez might not want to admit it, but Migration is a tour de force of drum performances, showcasing his astounding attention to fine detail, cross rhythmic expression, and dazzling independence. From foot pedal–executed clave patterns to blazingly fast and intricate drumset figures, Sanchez stuns. Advertisement
"My sound is starting to be more recognizable now," he says, with typical modesty. "Before I was doing a lot of things and trying to consolidate what I thought my sound could be. With this album especially, that comes across really well."
Sanchez recorded Migration in January 2007, playing a smaller Yamaha maple Absolute Nouveau kit than he does with The Pat Metheny Group (5×14 snare, 8×12 tom, 14×14 floor, 14×18 bass drum, with a 22″ Zildjian K Constantinople medium-thin high ride, a 22″ K Constantinople medium-thin low ride, a 22″ A Zildjian prototype flat ride, an 18″ prototype crash, and 13″ 1950s K Zildjian hats).
Antonio has more recordings in the can, including releases from The Pat Metheny Trio (February '08), The Chick Corea Trio (Japanese import), and The Gary Burton Revisited Quartet (spring '08). An instructional DVD is also in the works, from Hudson Video. Advertisement
For more from Antonio Sanchez visit his website here.
Ken Micallef