Santiago Cabakian of AplanadorA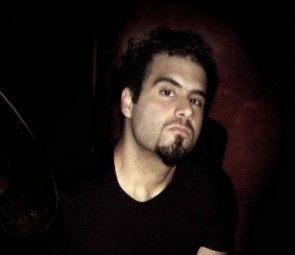 Hello, people at Modern Drummer, it's a pleasure for me to tell you the way I've been trying to survive musically in this little big-hearted country in Latin America called Uruguay.
Logically, this country's good heart and friendly people are not enough: In a third-world country there are few possibilities of economic development for musicians.
Most of us–although we are, musically speaking, above many of the bands that come to play here from other countries–must pay the price of living here and wait for a miracle to happen and take us to the place we deserve to be in.
But not everything is wrong: I've been blessed with the gift of being able to develop as a musician, specifically as a drummer, since I was six years old. I've been through every vicissitude in this career, but I carry on as session drummer. Lately I've had been more enthusiastic about being a member of a band. All in all, it's a career I'm achieving with a lot of sacrifice, like every individual who dedicates himself to music.
In 2001 I was a member of Plancton (new metal), and two years later I became a founding member of AplanadorA, with my friend and bass-player Agustin Davis (formerly of Legend).
In 2004, the band Radical called me for their first record, Radio, and I took part in their shows during the first period of the band. A year and a half later, in May of 2006, that album achieved the Graffiti award for Best Heavy Metal Album, given by local and international press and recording companies. Advertisement
Nevertheless, I chose to stay with AplanadorA, who I went on to record four albums with. This band played live for the first time on December 11, 2005, when we introduced our first LP, a tribute to the legendary Brits Black Sabbath.
After a good number of shows–from Bjbar to ex Central Theatre–this past July AplanadorA shared a show with Viticus, the Argentinean band of the former bassist of Pappo, Riff.
This October AplanadorA had the privilege of sharing boards with the Deep Purple/Black Sabbath bassist and vocalist Glenn Hughes. This took place at the Central Theatre, where AplanadorA played for the first time and opened the first show that Hughes gave in Uruguay in ten years.
I can say that I'm happy with the results: a unique, not very common experience for a band of our genre. And I must say that, although the price of the tickets was not very affordable, the four thousand people in the audience–among whom we could recognize our loyal stable of fans–told us that fans will follow you to the end of the earth. Advertisement
The whole experience pre-show and backstage with Glenn's crew was unusual–I have never had the chance to know people so cordial, refined, and polite. One of my greatest memories is a dialog with Steve Stephens, a heart-and-soul human being who showed his goodness by lending me his drumkit and allowing me to make the changes I wished to for my performance. This enabled AplanadorA to start the show on time. Glenn and G.G. Mash also showed their kindness by congratulating my performance.
Let's turn to my regular life: teaching and playing in the few places Montevideo offers. At the moment I'm in a new project called Indigo, with singer and guitarist Pablo Soiza. We've done twelve songs, which we hope to release by November 23. I have very good expectations for the album because the songs are powerful and my style is more moderated than when playing heavy metal. On November 22 we are playing at Bjbar.
My career started for me after lots of radio advertisements, shows with soloists, and cheap cover bands that did not pay a third of my daily expenses, which I need to supplement my earnings from teaching. But I don't want to give you a bad image. Because all hard work results in good rewards, especially when a great magazine like Modern Drummer gives me the chance to tell you about my reality as a drummer here in South America. Advertisement
Well, if you want to know more about my career and listen to some of my music, you can visit these sites: www.myspace.com/scabakian, www.aplanadora.net, and www.myspace.com/indigobanda. Or if you want, you can email me at scabakian@gmail.com
And don't forget this: "Creation, freedom, and strength—always look for new ideas!"