LA Drummer/Instructor Pamela Manganaro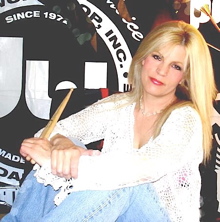 Hi, MD readers, my name is Pamela Manganaro, and I'm a drummer/teacher in Los Angeles. I'd like to share my experience and hopefully encourage more women to play drums.
In 1989 Drum Workshop vice-president John Good asked me if I could throw a curve ball. "You bet," I said. And that was my welcome into the DW family. I was now an official Drum Workshop artist, the quintessential symbol of a professional drummer who made it. The curve ball question was his creative way of determining if I could play. You see, the way one throws a ball corresponds to proper grip and stroke. I might have been a kid, and a girl to boot, but I knew my stuff.
I started playing the drums at age ten. My mom would drive me to the local music store for lessons with Houstonian drummers Craig Lemay and Bob Brock. I played in the orchestra all through junior high and high school, and went on to study percussion in college. The day I left Houston, I spray-painted "Hollywood Here I Come" with shoe polish on the back window of my Camaro. I was determined to make it big in Los Angeles. So here I was in John Good's office, surrounded by posters of all the drummers I idolized: Jonathan Moffett (Madonna), Terry Bozzio (Missing Persons), Neil Peart (Rush). I felt like a little girl who had a long way to go.
Six weeks later, my new kit arrived via U.P.S. Opening the boxes, I was greeted with the pure, delicious scent of fresh maple wood. The high-gloss lacquer finish sparkled in the light. I couldn't believe these were my drums. I set them up, and for three days I slept on the floor next to them. I spent the next fifteen years loading, driving, unloading, carrying, setting up, and tearing down those beautiful drums, playing every chance I could get. I put my heart and sweat into more than twenty original projects, (trying to get signed), did hundreds of casuals (weddings, bar mitzvahs, etc.,), and went on tour twice with Latin-jazz artist Angela Bofill and contemporary pop band Go West. Advertisement
Once, five years ago, my mentor, drummer Ricky Lawson (Anita Baker, Yellowjackets) called to say Madonna was flying to LA to audition musicians for her upcoming tour. He said the gig paid $7,000 a week and he wanted me to go for it. That sounded nice, but I wasn't invited to audition. The next day, Madonna's musical director called me from New York. He said Ricky had called Madonna in England and told her I could play and she said, "All right, let her play." Talk about shock. I immediately hung up and went into overdrive. I had three days to learn five songs. That was the easy part. I knew Madonna ran sequenced tracks on stage, and I knew I had to be hip to the technology behind those tracks. So I called my best friend, Chris Clermont, and over the next 72 hours we uploaded the five songs onto his computer and took out the drum tracks, so I could show up at the audition with the tracks minus the drums and play along to the rest of the instrumentation live. This was the biggest audition of my life, and I had to be prepared.
On the day of the audition, we arrived at Lead's, a famous rehearsal studio on Sunset Boulevard. It was packed with musicians trying to crash the audition. My name was on the list, number four out of five drummers who were auditioning, and the security guard scurried us in. Chris, Oscar, (my equipment tech), and I nervously waited in the lobby with all my gear.
Finally, my time came. We entered the room, and there she was. I came face to face with one of the most influential and powerful icons of pop music and contemporary culture, Madonna. I extended my hand and said, "Hey, Madonna, I'm Pam and I'm here to play the drums for you." I sounded so contrived and phony. Plus, I felt so stupid because she was in the middle of putting her coat on and her arm wasn't all the way through the sleeve yet. Here I was pouncing all over her with all my nervous energy, pushing her to shake my hand when all she could do was finish putting on her coat. I created the uncomfortable pretzel tension, and for some crazy reason, I cannot get over that moment. Advertisement
Meanwhile, I look up to the drum riser and see Chris freaking out. His sequencer was on the blink. What? Oh my God! I had to keep cool. I played it off like it was no big deal and I told the sound engineer to feed me the tracks through the house system. Chris and Oscar cleared off the drum riser, and I sat down on the drum throne.
There's always an ethereal moment when approaching the kit, when everything is set up perfectly, and I'm prepared to play. The kit is so beautiful, ready and waiting for me. I feel blessed in that moment, as if angels are in the room. So the soundman hands me the headphones, which are a piece of junk, and he pumps the playback tracks so loud that my eardrums are practically blown out. For the next two years, I would suffer from a strange humming sound in my head. I still have occasional pain, a piercing reminder of that day.
Anyway, I played three of the five songs. She wanted to hear how I sounded on another song that wasn't on the list, "Holiday." I played it, thanked them, and left. I heard they hired Michael Bland, Prince's drummer, then let him go for some reason or another, and used the drummer who previously recorded her new music in England. Advertisement
So that was my one big shot at making it big. It came and went, and here I am. I never reached the heights of the famous drummers I grew up idolizing. Sheila E is the most famous female drummer out there. You go, girl! In fact, female drummers have a huge place in my heart.
So, what am I doing now? I had a baby, went back to school, and now I teach children how to play the drums. Maybe I actually did "make it," in the sense that I was fortunate enough to have the freedom to pursue my passion and experience life in such a beautiful way. Even though I never became a famous mainstream drummer, I know one thing: I can still throw a serious curve ball.
For more on Pam, follow here on Twitter @PamManganaro.