Bryan Hitt of REO Speedwagon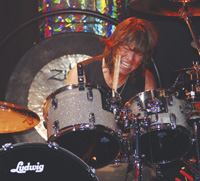 Eighteen-year REO Speedwagon drummer Bryan Hitt says that the band's new album, Find Your Own Way Home, took a couple of years to make. Taking their time seems to have paid off for the band who are primarily known for huge power-ballad hits like "Keep On Loving You" and "Can't Fight This Feeling." Their new single "I Needed To Fall" recently made it into the top-30 of the adult contemporary charts–not too shabby for a completely self-financed, self-marketed effort.
"All of us think it's the best record we've ever made," Hitt enthuses. "There's no denying that it's REO Speedwagon, but it's definitely a new and improved Speedwagon. I think there's some great playing on it, and a whole lot of emotion. A lot of things were going on in everybody's lives [during the making of the album], which sometimes makes for great songwriting.
"My favorite song is 'Smilin' In The End,'" Hitt continues, "which is probably the most rockin' tune the band has done in thirty years. Another one of my favorites is 'Everything You Feel.' It's very different and starts out with gongs. In fact, I played a lot of percussion on this record–djembes, cajon, shakers, gongs, you name it, which was a lot of fun." Advertisement
Robyn Flans