Felix "D'kat" Pollard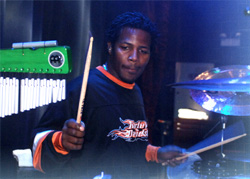 Felix Pollard's drums weren't the only thing pounding after he got a last-minute call to play for Lionel Richie's 2004 performance on Oprah. The thought of performing for two legends in his hometown of Chicago with no rehearsal gave the drummer the worst headache of his life. But did Pollard let the stars see him sweat at the taping? "I counted off and we were in the moment," Pollard recalls. Richie was so impressed he invited the drummer to play a month-long tour.
At thirty-five, Pollard has been playing professionally for more than twenty-five years, including appearances on Leno and Letterman, and a performance for First Lady Hillary Clinton. The drummer says he would easily still reside in Chicago had Sheila E–and better opportunities–not lured him to LA in 1999. Playing "everything from serious classical to serious funk," his vast repertoire is evident in his work with such artists as Jessica Simpson, Destiny's Child, George Duke, and American Idol stars Clay Aiken and Taylor Hicks. The Jukebox Tour with Aiken alone ran the gamut from Elvis to Motown.
Eventually Pollard wants to front his own band, as well as clock more studio time doing music for television and film. "I still love touring," he insists. "I enjoy traveling. And I want to share this gift as long as I can." Advertisement
Cindy Barrymore