The Return of Double Drumming's Greatest Hits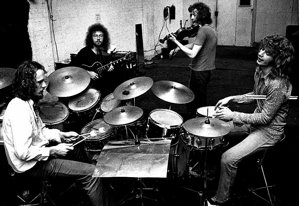 In the February 2007 issue of Modern Drummer, we ran a feature called "Double Drumming's 25 Greatest Hits." At the time we asked MD readers to submit their own favorite double-drum performances, which we'd post online at a later date. Well, the time has arrived, double-drum fans—the floor is yours!
We begin our piece with an email from Les Dudek, the famed guitarist who many classic-rock fans will recognize as Dickey Betts' lead foil on The Allman Brothers Band's classic cuts "Jessica" and "Ramblin' Man," from the Brothers And Sisters album. Les has led a bunch of great dates as a leader too, and many times has employed a double-drum lineup. Our thanks to MD reader Mike Vermillion for hooking us up with Les, who begins our story by telling us about the track "Zorro Rides Again" from his Say No More album.
"That's Tony Williams and Jeff Porcaro playing drums on that track," Les reports. "In fact, when the track begins, you can hear Tony start it, and then Jeff comes in a few measures later.
"We were in the middle of recording my Say No More LP," Les continues, when my producer, Bruce Botnick, asked me if I would like to go to a concert with him at the Santa Monica Civic Center to see Tony Williams Life Time and Chick Corea. Of course I said, Hell yeah! It was a great concert, and about midway through, Bruce asked me if I would like to use any of these guys on my recording session the next day. I said yes, but I needed to get home and write something worthy enough for them to play. So I stayed up all night and wrote 'Zorro Rides Again.' Advertisement
"As I was writing the song I thought, This would be a great one to have two drummers on. So the next morning I called Jeff Porcaro to ask him if he would like to do a session with two drummers. Jeff asked, 'Who's the other drummer?' and I said, 'Tony Williams.' Jeff replied, 'Let me cancel all my sessions. Where are we recording, and what time do you want me there?'
"We rounded out the lineup with Pops Popwell from The Jazz Crusaders on bass guitar and David Sancious, from Tony's band, on B-3 organ. We recorded in Studio A at Capital Records in LA.
"By chance," Les continues, "there was someone there with a camera, and he got up on a tall ladder looking down on us and shot a very cool photo of us all recording 'Zorro Rides Again.' I gave an 8×10 copy of it to Jeff, and I know he had it hanging on his wall till the day he died. Jeff was very proud of that photo, and so am I. I also have a poster-size copy framed and hanging on my wall as we speak. That was a very magical session, one that I'll never forget.
"I had a few more double-drummer sessions on my records. One particularly memorable one is from my Ghost Town Parade LP, on a tune titled "Friend Of Mine." We had Jeff Porcaro and Jim Keltner on drums. We also had Carmine Appice and Gary Mallaber on another tune. Advertisement
"Of course, my first double drummer recording experience was with Butch Trucks and Jai Johanny Johanson on two Allman Brothers tunes, 'Ramblin Man' and 'Jessica.'"
Thanks for those double-drummer memories, Les. Now let's get to some great double-double suggestions from our readers.

"The Todd Rundgren album Initiation has three songs that feature three separate sets of two drummers. Todd is actually a pretty good drummer himself, so he knew what he was doing. "The Death Of Rock And Roll" features John Wilcox and Kevin Ellman, both of whom went on to play in different versions of Todd's Utopia band. This tune is a nice example of two drummers playing off each other; interestingly, it's very much a "pocket" song, though both players did some pretty interesting and stranger parts on Utopia albums.
"Initiation's title track features two crème de la crème New York session players: Bernard Purdie and Rick Marotta. Great fills and accents between the two of them. Either one of these guys is such a pleasure to hear, but the two together makes for a real treat: tasty and solid as they come.
"Finally, 'Fair Warning,' which closes side one of the album, is a bit of an anomaly—a slow (almost 12/8 feel) ballad with two drummers, Chris Parker and Barry Lazarowitz. The recording is really cool: lots of echo emphasizing giant fills of few notes but a lot of power."
Travis Hudelson Advertisement
"I've got four favorite double-drummer tracks. The first is 'Without You,' from The Doobie Brothers' album The Captain And Me. This song features The Doobies' original two drummers, Michael Hossack and John Hartmann. Hossack was later replaced by Keith Knudsen, and then later Hartmann was replaced by Chet McKracken. In recent years, Hossack and Knudsen played together in the band, until Knudsen's tragic passing recently.
"'Hold On Loosely' by 38 Special features Steve Brookins and Jack Grondin on drums. The pair plays very nicely together, and they hold a solid groove. I didn't believe that they both played on this track until I saw live footage of the band playing this song, and I saw and heard them doing things that I now hear on the studio version but that I didn't notice before. It's hard to believe that two drummers could play together so tightly.
"I'm not positive about this one, but I think the song 'I Think I'll Just Stay Here And Drink,' from Merle Haggard's Back To The Barrooms album, features two drummers. I do know that that most of the songs on the album have two drum tracks. Nashville greats Jerry Kroon and the late Larrie Londin play on this album, and it sounds to me like it had to be two guys playing together on 'I Think I'll Just Stay Here And Drink.' One drum track is playing half time 2/4 (and lots of tom-tom fills), while the other is playing a straight 4/4. Advertisement
"Finally, The Charlie Daniels Band featured two drummers throughout the '70s and early '80s. Charlie's biggest hit, 'The Devil Went Down To Georgia,' features one of his drummers playing a train shuffle with brushes, while the other plays regular sticks. The drummers on this track are Fred Edwards and James Marshall."
Casey Lyde
"The song 'Frankenstein' by The Edgar Winter Group deserves to be on any double-drummer list because it's an instrumental and two drummers were used to make it a monster hit. The drummer is Chuck Ruff and Edgar himself plays the timbales."
Todd Mercer
"A great double-drummer track from the CD Fela Kuti With Ginger Baker Live! is listed as 'Ginger Baker & Tony Allen Drum Solo.' This was recorded live at the Berlin Jazz Festival in 1978 and is featured as a bonus track on the CD version of the album. Simply put, it's amazing."
Mathew Roy Advertisement
"You can't do a double-drummer article without adding Ralph Johnson and Fred White! Check Earth Wind And Fire's Gratitude and listen to the cuts 'Devotion' and 'Reasons.' And if you want to get deeper, listen to The Eternal Dance for a live version of 'Mighty Mighty.' The intro alone and the interplay between the two is amazing!"
Ronin Ali
"One of my favorite double-drumming grooves is on 'Hollywood Nights' from Bob Seger's Stranger In Town. This is not technically in the same spirit as the performances in the double-drummer feature, because it's an overdubbed drum track, with only one drummer, David Teegarden. However, it's certainly a very moving and much-loved 'double drumming' track."
Tony Menendez
"During KISS's MTV Unplugged performance from 1996, there was a duet with original KISS drummer Peter Criss and Eric Singer. The two drummers were perfect together, and the crowd was blown away. This was a reunion of the band, and the spirit was there. I suggest the track 'Rock And Roll All Night.' It's a great beat and a great song."
Gerasimos Kavvadas Advertisement
"One of my favorite double-drum songs is from the Suzanne Vega album Nine Objects Of Desire. There's a great track called 'Tombstone' that features Jerry Marotta on the right side of the mix and Yuval Gabay on the left. The tune starts with Jerry playing a half-time feel along with Mitchell Froom playing piano. After a couple bars Yuval comes in with a double-time feel along with bassist Sebastian Steinberg. The song is mixed so that you can clearly hear each drummer's contribution to the tune. The combination of all the players, Mitchell and Sebastian included, creates a funky little groove that feels great."
Joe Hill
Finally, we have this suggestion from Dave Mihaly, drummer for Jolie Holland, Mushroom, and The After The End Of The World Coretet: "A double-drummer cut that has inspired me for over thirty years is the title track of Bennie Maupin'sThe Jewel In The Lotus, from 1974. Billy Hart and Freddy Waits (father of Nasheet Waits) are the drummers. Waits is on the left channel, Hart on the right, and together they play in tandem using a lot of spacial consideration that is unique to most twin trap drum recordings. The track is a beautiful loping melodic loop that has collage-like overlays of lovely snare rolls and cymbal tattoos, and the addition of percussion colors from Bill Summers as well as Herbie Hancock's exquisite piano make this an amazing and inspiring document."
Dave Mihaly
A big thank-you to all the MD readers who wrote in with their fantastic double-drummer suggestions. Be sure to get back to us at adamb@moderndrummer.com with your T-shirt size and mailing address, so we can thank you properly. Advertisement