Drummer Blog: Marc Norgaard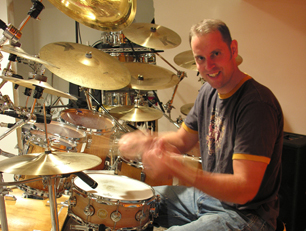 Hello, fellow drummers, from Baltimore, Maryland! My name is Marc Norgaard, and I have been running a successful drum session-via-the-Web business for a number of years. I've had the opportunity to play on everything from demos to jingles to complete albums, working with artists from around the world, right out of my own studio. I recently completed a solo album of all original "organic prog rock" called Tolerance with Frank Gambale, Brett Garsed, Steve Hunt, Tobias Hurwitz, and Dave DeMarco, which Modern Drummer invited me to write about here.
Let me start at the start!
Playing sessions means spending a lot of time listening to other people's music, and trying to create a drum part that satisfies where they are trying to go with it. Sometimes it flat-out means playing a drum part that they threw together on a machine and ended up married to, even though they've never touched a drumstick in their life. Often it means adapting your style to get the certain sound of another drummer who the artist hiring you admires. What it all boils down to is satisfying customers, which–while gratifying in its own way–doesn't always scratch that itch that all of us have as musicians: to get a message out through our respective instruments that tells a story about who we are musically and, more fundamentally, who we are as individuals. Having watched clients go through the process of releasing their own music for years, living out their dreams on whatever scale, I decided it was time for me to take that step as well. For those of you thinking of releasing a solo album—everything they tell you is true! It's a ridiculous amount of work. But it's also totally worth it.
In addition to the drums, I play just enough guitar to be dangerous (to the neighbors' ears, anyway), so most of my writing was initially done on the guitar. I would write a scratch guitar track (usually recorded with a click) and then head for the drumkit, thinking about how to orchestrate grooves, create arrangements, and allow whatever other random inspiration was around to strike. I would then return to the guitar, rewrite parts, add the new orchestration and hits where I was feeling them on the kit, and write additional sections. Once the outlines of the songs were complete, I went back again and recorded some scratch drum parts. (Ironically, many of the scratch tracks ended up being the final tracks of the album, just to keep that spontaneous and fresh feeling in the takes.) I then wrote a significant amount of the bass parts and melodies, at which point I had a working demo to send out when recruiting other musicians for the project. Advertisement
I started at the top of the food chain, looking for prog-rock and fusion guitarists, and luckily enough I was able to interest my two first choices for the main guitar slots, Brett Garsed (Planet X) and Frank Gambale (Chick Corea Elektric Band). I also have the good fortune of being the regular drummer for National Guitar Workshop shred guru Tobias Hurwitz, and he readily signed on for a track himself. A number of the tunes on the album feature piano, but I wanted to avoid synthesizers for the most part, in an effort to keep things sounding as organic as possible. I approached Steve Hunt (Allan Holdsworth, Billy Cobham), hoping to find someone interested in playing acoustic piano who would also stylistically be able to bridge the gap between prog rock and fusion that most of my writing explores. Steve also readily agreed, and I was down to the all-important bass chair.
A few years earlier I'd been invited to join a project with another local session player, Dave DeMarco. Though that never really took off, I'd been impressed with his attitude and his chops at the time, and decided to call him up. Having a local player involved, after all, would mean more control over what we could do as a rhythm section, and he was always the definition of professional. He also plays some drums on occasion, and was, in fact, involved in the Turn It Up, Lay It Down series of CDs for drummers, which many of you have no doubt heard. Having a bass player with "drummers' ears" could only be an asset. After hearing the demo material, Dave agreed to sign up for the project.
Before tracking began, I became intimately familiar with Sibelius notation software, which enabled me to get coherent-looking charts in front of everyone for recording. While I did have some basic theory while I was at Berklee, and more from Tobias, I had not exercised it a great deal. So I spent hours counting frets and then running through "Every, Good, Boy, Deserves…" up the staff to make it all happen. But by the end of it I was feeling much more engaged with the music than I had at any point yet…and also learned how to notate an A min b9/#11 chord! Yikes! Advertisement
We began by tracking the bass and drum parts first, making a few changes, and adjusting parts to adapt to some of the absolutely killer ideas that Dave would come in with each week. Once those tracks were complete, the guitar tracks were recorded, with a few additions and suggestions to spice things up as we went along. All three of the guitarists were fantastic to work with–very positive, open to suggestions, and all giving helpful feedback with regards to trying to move the music in the right direction. Brett Garsed even went to the lengths of requesting soloed tracks of my original scratch guitar melodies, so that he could recreate all the different inflections I had envisioned. (It also occurred to me that maybe my charts were just so bad he couldn't read them, and he was saving my ego a bit—who knows!) As everyone's parts were completed, I really started to get excited. Hearing what you've spent over a year's effort on really taking shape is an indescribable feeling. This excitement never let up, right through the mix down, all the way to that final stage during which you hear the music sounding its most incredible: during playback at high-bit resolution in the mastering studio (Masterdisk in New York City).
During this time the artwork was also getting finalized, and the manufacturing and distribution were being discussed. Once the CDs were pressed–twenty months after I started the project–a lifelong dream was accomplished. I hope you all enjoy the CD. Hit me up with any questions, or give me a shout over at MySpace.
I urge you all to always pursue your own goals. Cheers!
For more on Marc Norgaard, go to www.marcnorgaard.com or www.myspace.com/marcnorgaarddrums. To purchase Tolerance, go to cdbaby.com/cd/marcnorgaard or www.amazon.com/Tolerance-Marc-Norgaard/dp/B000TYWJD8. And check out Marc in the October '07 issue of Recording magazine, in the feature on session drummers titled "Drummers For Hire." Advertisement